Just as the sun peeked over the top of the warehouse, a new era began at the U1a Complex.
In late July, Nevada National Security Site leadership gathered with more than 200 craft workers, construction workers and facility support staff to formally kick off U1a Complex Enhancement Project (UCEP) 20, and to mark the end of the highly successful first phase.
The morning celebration ushered in the next phase – UCEP 20 – a major, $560 million construction project to install the infrastructure that will support the expansion of underground subcritical experiments at U1a. The first phase – UCEP 10 – a $50 million construction project came in $3 million under budget and one year ahead of schedule.
In recent years, Mission Support and Test Services (MSTS) leadership and employees have helped to grow the annual budget for the NNSS from $480 million to $920 million. UCEP has been a major factor in the additional investments. The NNSS also recently achieved certification from the U.S. Department of Energy for its Earned Value Management System – a project management system put in place to enable UCEP leaders to make high-quality decisions surrounding cost, schedule and risk.
"U1a is going to house one of the most important tools that the U.S. has to certify the nuclear weapons stockpile to be safe, secure and reliable," said MSTS President Mark W. Martinez. "While we're doing this vital work here, we're also continuing to do all the subcritical experiments we were doing before, so everything is in addition to."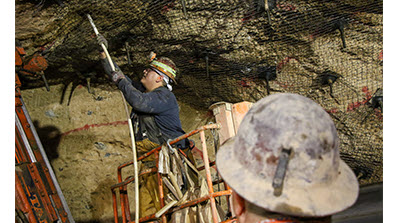 The second phase of the project will take about three years to complete and will involve hundreds of employees working both day and night shifts, amounting to 20 hours a day.
For Steve Cherry, Director of Construction, that means one thing rises to the surface above all else: safety.
"We're going to have more get-togethers like this, we're going to celebrate as we go, we're going to work together as a team, and we're going to be one unit to successfully bring in UCEP and all the projects that we're doing here," Cherry said. "Let's take the time to make sure we have everything right. Our work packages, our sequence of work, but also making sure we got our workmates taken care of as well."
Roger Rocha, Vice President and Chief Operating Officer for MSTS, agreed. "We have to remember that what we do for the nation here is truly critical, but how we do it is absolutely essential. We have to do it safely," he said.
Interested in being part of the national security work we're doing? The NNSS is hiring talented, hardworking individuals to join our team at U1a. Check out hot new jobs, including Principal Work Planner, Scientist II, Senior Mechanical Engineer and Principal Nuclear Facility Operations Specialist. Find more opportunities at NNSS.gov/jobs.