Achieved operating capability to safely conduct UAS operations
The NNSS achieved operating capability to conduct Unmanned Aerial Vehicle (UAS) experiments in 2021, and safely and securely executed sustainable test range activities in support of Defense Nuclear Nonproliferation, federal, national laboratory and industry missions.
NNSS becomes one of the first employers to provide the COVID-19 vaccine
Thanks to the hard work of the NNSS Occupational Medicine team, many of whom are pictured (right) during a Jan. 12 drive-thru vaccine clinic, the NNSS was one of the first National Nuclear Security Administration (NNSA) locations—and one of the first employers in Nevada—to offer on-site COVID-19 vaccinations to employees.
Port Gaston solidifies its place as a world-class cUAS test bed
Established in 2020, the NNSS' Port Gaston test bed arena flew to new heights in 2021. Featuring restricted airspace in a remote and secure environment, Port Gaston provides a realistic, agile, outdoor test location where users can train against unmanned aerial systems (UAS) in an austere environment. Additional capabilities include: verification of UAS/counter-UAS capabilities, providing of customized sensors and availability of modular UAS payloads for sensors and communications.
DOE awards NNSS employees with highest internal honors
More than 100 NNSS employees were selected to receive a Secretary's Honor Award, one of the highest awards bestowed on an employee within the Department of Energy (DOE).
All NNSS recipients were recognized with a Secretary of Energy Achievement Award and fall within the following teams, respectively:
NNSA Nuclear Security Enterprise Recruitment Team
Packaging and Shipping of Radiological Waste Assessment Team
Source Physics Experiment, Phase II, Dry Alluvium Geology Team
Seattle Response and Recovery and Cs-137 Joint Investigation Teams
COVID-19 Facilities and People Response Team.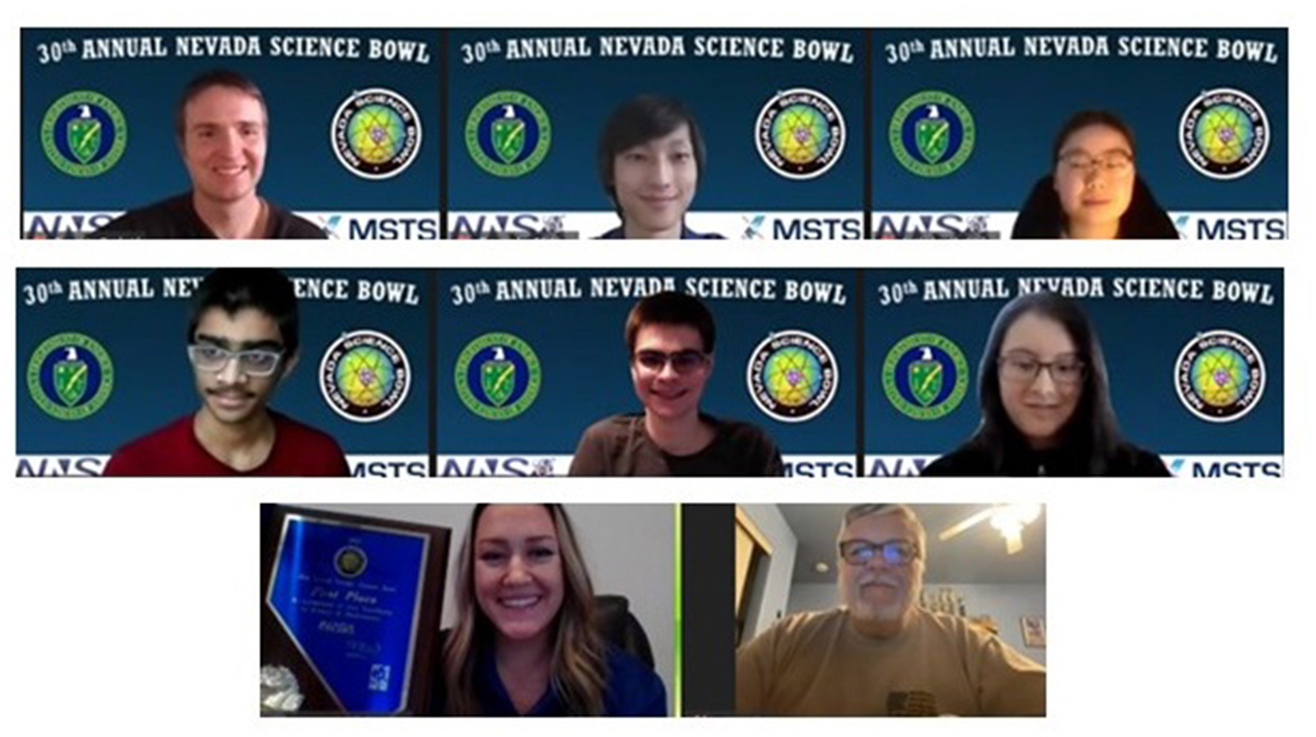 The NNSS hosts first-ever virtual Nevada Science Bowl
The 30th annual Nevada Science Bowl went virtual this year.
Defending their 2020 Nevada Science Bowl title and securing a spot to represent the Silver State at the DOE National Science Bowl were Davidson Academy students from Reno, Nevada, who were named 2021 Nevada Science Bowl champions Feb. 6.
Nevada Science Bowl is a fast-paced question-and-answer format competition in which students are tested in a range of scientific and mathematical disciplines, including biology, chemistry, earth science, physics and energy.
Major milestone: dual-headed mining breakthrough
Eighteen months and 577 feet after it began, an expansion to the U1a Complex hit a major milestone in March as staff punched through the last remaining dirt wall between the two halves of the new tunnel.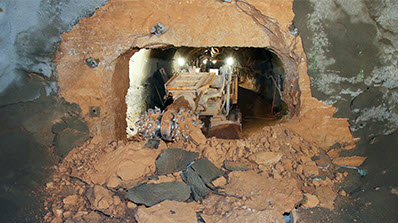 The accomplishment brings the NNSS one step closer to the completion of the $1 billion-plus Enhanced Capabilities for Subcritical Experiments (ECSE) line item project in collaboration with all three weapons laboratories. ECSE will allow the laboratories to execute experiments in support of stockpile stewardship, certification, and modernization for many decades to come.
The NNSS simultaneously deconflicted these ECSE preparation activities from subcritical experimental schedules and U1a operational maintenance requirements, all while observing strict COVID-19 mitigation requirements in close quarters.
Received High-Performance Sustainable Building certification for Mercury Building 1
The NNSS received High-Performance Sustainable Building certification for Mercury Building 1 (technically, building 23-460) and leveraged this Standardized Acquisition and Recapitalization (STAR) design and an innovative bundled acquisition approach to streamline procurement, increase competition, reduce costs and facilitate subcontractor execution on subsequent buildings.
Building 1 features extensive utility upgrades and is built to Leadership in Energy and Environmental Design Gold standards as well as federal sustainability requirements. The building is credited as the NNSA's second net-zero energy facility in the enterprise thanks to its alignment with the Mercury solar array, which debuted in 2018 and currently powers NNSS Fire Station 1, the first NNSA net-zero facility.
For more information on Mercury Building 1 and the STAR design, click here.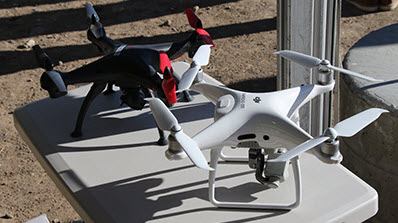 NNSS partners with Epirus on counter-UAS research and development
The NNSS entered into a new research and development partnership with Epirus, an expanding growth technology company developing counter Unmanned Aerial Systems (cUAS) for the private sector, the U.S. Department of Defense and other government agencies.
The Epirus Leonidas System is a cUAS with the power and precision to disable multiple threats across a wide area or neutralize a single system in tight, crowded spaces.
The NNSS/Epirus partnership is one of the first of many upcoming partnerships with private companies that are actively engaged in national security work, allowing new ideas to emerge from a broader range of expertise.
NNSS teams recognized with NNSA Defense Programs Awards of Excellence
The NNSA recognized six NNSS teams with Defense Programs Awards of Excellence on May 6. Kent T. Jones, NNSA Assistant Deputy Administrator for Systems Engineering & Integration, was on hand to congratulate the teams for their excellent work in support of the nation's Stockpile Stewardship Program.
NNSS kicks off its third annual Student Program
The NNSS kicked off its third annual Student Program May 24-25. Students from all across the U.S. attended their first day of the summer program by logging onto the virtual format.
In 2019, the Student Program was developed to allow hands-on work experience, mentorship in various disciplines and professional development opportunities for college students.
Last year, amid the COVID-19 pandemic, an in-person internship was no longer feasible. The Talent Acquisition department worked with many directorates to transform the program from an in-person internship to being completely virtual in just five short weeks.
Read more information at NNSS.gov about the NNSS Student Program.
NNSS, Kansas City National Security Campus blast off for national security
On June 17, the NNSS and Kansas City National Security (KCNSC) campus—in partnership with Oklahoma State University — launched two 14-foot university hobby/competition rockets at Port Gaston to gather data to further mature KCNSC's national security technologies.
A venue like no other, the NNSS is uniquely positioned to conduct a wide variety of national security experiments, including official use only and classified experiments that can't be done in the civilian or private sector. As such, the NNSS regularly partners with other government agencies and private sector customers seeking a secure, remote and expansive location; skilled scientists and technical experts; controlled and restricted airspace that provides for FCC waivers for radio frequency; and a Military Operating Area that allows for work performance without the need for a Certificate of Authorization from the FAA.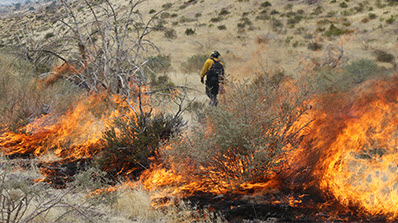 With increased fire activity over the summer, NNSS rises to the occasion
In May, before wildland fire season officially began, the first of what would become four wildland fire experiences at and around the Site took place. On three of the four occasions, the NNSS joined forces with the Bureau of Land Management (BLM) to battle the blazes. As with numerous locations throughout the West, the number of fires over the summer (and before) was unusually high for the area.
While the fires were clearly not a highlight of the year, the NNSS is proud of the response provided by all each and every time. NNSS and BLM Fire & Rescue — and all members of the entities' emergency response teams — rose to the occasion and worked diligently to keep the Site and surrounding areas safe and informed during every fire.
Edlund named NNSA's Safety System Oversight Engineer of the Year
Jeff Edlund of the NNSA Nevada Field Office was honored by NNSA and the Department of Energy as its Safety System Oversight (SSO) Engineer of the Year for 2020.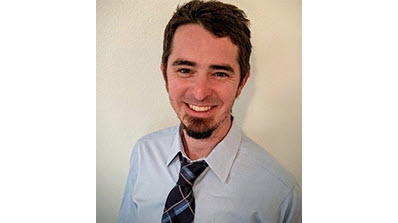 The SSO award, which this year was given virtually, recognized Edlund's work at the NNSA Production Office (NPO) in Oak Ridge, Tennessee, where he previously served as a nuclear safety specialist, facility representative, and SSO. He joined the NNSS in late 2020. The award recognizes his outstanding achievements in leadership, teamwork, and innovation in establishing a hybrid standard for NPO with a facility representative/safety system oversight dual role.
To read more about Edlund's recognition, please click here.
Integral NNSA power project reaches key milestone
The NNSA has authorized the design and construction start of the 138 kilovolt (kV) Power Transmission System Replacement (138kV PTSR) at the NNSS through its Critical Decision 2/3.
This milestone has approved the performance baseline and start of construction for the 138kV PTSR project to replace and upgrade approximately 26 miles of the degraded existing power transmission system, and to upgrade the co-located fiber optic lines in the NNSS Mission Corridor. These upgrades are integral to NNSA providing reliable power and communications to mission critical facilities at NNSS.
Reliable and resilient infrastructure is a key tenet of NNSA's Strategic Vision. In January 2017, NNSA completed the replacement of the most vulnerable 1.7-mile section of this transmission system just weeks before a storm destroyed portions of the old section. This new project will replace a high-risk segment of this powerline, a line that supports critical national security mission activities conducted by not only DOE and NNSA, but also the Department of Defense, Homeland Security, and other federal partners.
The $50.3 million 138 kV project is scheduled to be completed in 2023.
Read more about NNSA's Office of Acquisition and Project Management and Office of Safety, Infrastructure, and Operations.
NNSS scientists contribute to National Ignition Facility breakthrough
On Aug. 8, 2021, an experiment at Lawrence Livermore National Laboratory's National Ignition Facility (NIF) made a significant step toward ignition, achieving a yield of more than 1.3 megajoules. The yield resulted by focusing a laser light the size of three football fields onto a target the size of a BB, which produced a hot-spot the diameter of a human hair and generating more than 10 quadrillion watts of fusion power in 100 trillionths of a second.
The central mission of NIF is to provide experimental insight and data for the science-based Stockpile Stewardship Program of the NNSA. This advancement puts researchers at the threshold of fusion ignition, an important goal of the NIF, and opens access to a new experimental regime.
NNSS' Livermore Operations has been supporting activities at NIF since the early 2000s through diagnostic characterizations, development and deployment.
NNSS upgrades systems, experiences record low utility power interruptions
To accommodate newer and larger electrical needs at the Site and North Las Vegas Facility, while also better maintaining service to existing customers, the NNSS has made several upgrades to its utility power infrastructure since 2017. The long overdue and critically needed efforts that drove unplanned power outages up to a recorded all-time high in 2017 have improved every year since. The last year has seen a significant amount of work accomplished to restore, maintain and improve power at the North Las Vegas Nevada Support Facility, Mercury and Area 17. In fact, 2021 has seen the lowest amount of electrical utility interruptions on file.
The NNSS has shown year-to-year commitment to use its infrastructure dollars in the areas where they are needed most. By combining recapitalization of the most aged and frail sections, constructing new redundancies to the most critical customers and implementing a renewed focus on reoccurring maintenance efforts, the NNSS is best able to ensure a safer work environment and mitigate impacts to its 24/7 operations.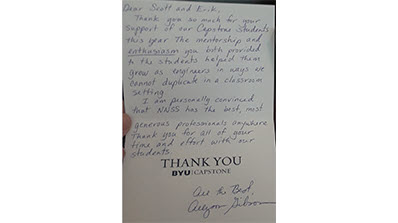 NNSS in the community: Advancing concepts of COVID-19 detection with BYU
The 2020/2021 Brigham Young University (BYU) Capstone Team was tasked with advancing NNSS-derived concepts of COVID-19 detection by utilizing commercial, off-the-shelf hardware and open source machine learning tools for novel human performance analytics-assessment capability.
The team focused efforts on two activities: first, developing and refining machine learning analysis of respiratory and cardiology data sets to visualize abnormal mechanical breathing performance and synchronization of heart rate and respiration rate; and second, creating a visualization tool for a user to analyze collected data in an efficient and actionable manner. The NNSS Site-Directed Research and Development technical development team approached the students as technical peers, allowing them to exercise real-world engineering concepts.
For more information on this work, click here.
Accomplished numerous Stockpile Stewardship milestones
The NNSS executed a record three subcritical experiments (SCEs) in a single year in collaboration with Los Alamos National Laboratory while planning and preparing for three additional SCE series to be executed in the upcoming years to support stockpile certification needs.
Executed Low Yield Nuclear Monitoring (LYNM) experiments including new capabilities to distinguish low- to no-yield weapons development activities from natural occurrences. These experiments included first-time collaborations with the Subcritical Experimentation program.
Achieved five firsts in stockpile certification diagnostic development, vastly improving the quantity, quality and recovery of data for the Nuclear Security Enterprise national laboratories, including visual imaging, radiographic imaging, plutonium resonance measurements and ejecta properties.
Executed three Short Stack experiments capped by a Legacy Fragmentation experiment for the B61 Life Extension Program to evaluate the fragmentation patterns of legacy components and provide safety and reliability data to stockpile modernization programs.
NNSS wins more than a dozen NNSA NA-50 Excellence Awards
More than a dozen NNSS teams were recognized Oct. 6 during an awards ceremony for the 2019 and 2020 NA-50 Excellence Awards, hosted virtually by NNSS. The NA-50 Excellence Awards are presented by the NNSA Office of Safety, Infrastructure & Operations (NA-50) for outstanding accomplishments involving innovation, effectiveness, teamwork, overcoming adversity and enabling future success.
NNSS releases 2020 environmental report
The NNSS released its annual environmental report for 2020.
The 2020 NNSS Environmental Report provides the results of environmental monitoring and compliance related to all programs and activities conducted in and around the NNSS to protect the environment and the public.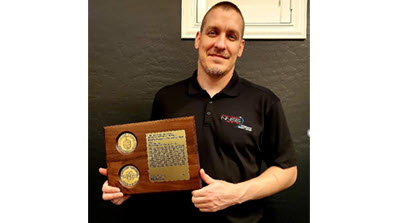 NNSS' Joshua Zamzow awarded Contractor Security Manager of the Year
The NNSA Office of Defense Nuclear Security recently honored Joshua Zamzow, manager of the NNSS' Vulnerability Analysis and Risk Planning department, as its Contractor Security Manager of the Year.
After the DOE published the Design Basis Threat (DBT), a comprehensive threat policy that describes DOE assets and the vulnerability assessment and security risk assessment metrics that are used to assess the quality of physical protection programs, Zamzow led his team through the analysis for the NNSS and became the first site to complete the analysis for the DBT. He also supported other sites in their implementation.
The NNSS led the NNSA Complex in DBT implementation, pioneering new Security Risk Authorization Basis and Unanalyzed Security Condition processes resulting in more efficient and agile support to Site mission activities and presenting these concepts to the NA-70 Program Integration Board.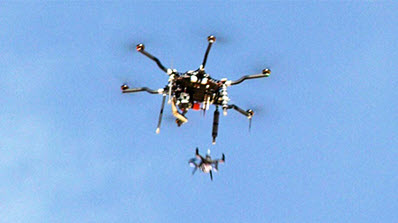 NNSS SDRD drone 'valet' significantly extends small drone range
The 2011 Fukushima Daiichi nuclear disaster prompted an immediate need for measurements to be taken in the disaster area—a need which posed two problems. First, the area was far too dangerous for any humans to take the measurements on-site themselves; and second, the impacted area was larger than most drones' range.
So how do you use a small drone to gather data from outside its limited flight range?Watch what an NNSS Site-Directed Research & Development-funded team came up with.
NNSS implements Phase I of new Science & Technology thrust areas
The NNSS has implemented Phase I of the establishment of its Science & Technology thrust areas. Each thrust area encompasses a specific segment of science and technology conducted at the NNSS. Of its seven total thrust areas, four were included in Phase I.
"The thrust areas provide a number of benefits," said NNSS Chief Scientist Jose Sinibaldi, who serves as program director for the Science & Technology directorate in which the thrust areas are housed. "In addition to strengthening our existing technical capabilities, they better prepare the NNSS for agile response to future national security threats."
More specifically, they'll enable cross-training across mission organizations and strengthen the science and technology areas at the NNSS, helping to attract and retain topnotch talent. The thrust areas will also help growing collaborations with universities, which—in turn—injects innovation into program missions and develops STEM pipelines with critical knowledge, skills and abilities.
NNSS integral to United States' holistic approach to supporting national security personnel
NNSS Program Managers Scott Sonnon and Ian O'Keefe established the Human Performance Analytics (HPA) system to analyze, customize and optimize the safety and security of the United States by unlocking ever-greater potential of personnel in national security organizations.
The NNSA adopted the HPA program to assess, customize and deliver training for emergency responders, military and intelligence officers to increase mission-specific physical, psychological and physiological performance. Partnering with the NNSS, a well-coordinated, fully-integrated training portfolio was created through selection of the highest caliber instruction cadre.
The NNSS is not just the creator of the HPA program; a subset of employees are also users. HPA has quickly become an integral part of the Nuclear Emergency Response Team, which includes the NNSS' Nuclear Response Division.
To read more, visit nnss.gov.
NNSS honored with a site visit by Southwest Alliance for Excellence
NNSS management and operating contractor Mission Support and Test Services' (MSTS) Business Operations senior directorate was selected by the Southwest Alliance for Excellence (SWAE), the Southwest affiliate of the Baldrige Foundation Institute for Performance Excellence, for a virtual site visit. The visit took place the week of Nov. 8-12.
Baldrige is a leadership and management framework with a systems-level, customer-driven organizational assessment and design approach that has proven to enhance the performance of organizations across every sector of the economy compared to non-Baldrige peers.
Only a small percentage of businesses are selected for a site visit based on Baldrige's stringent national criteria. Following a site visit, the SWAE examiners compile a report containing business strengths and opportunities for improvement against the Baldrige criteria questions and scoring system. Businesses visited are also considered for prestigious SWAE Awards that will be announced at a later date.
MSTS forms CRADA to fight global warming
MSTS has formed a Cooperative Research and Development Agreement (CRADA), an agreement between MSTS and a private company to work alongside one another on research and development.
Two MSTS employees formed Plumarea, LLC, to attempt to commercialize NNSS/MSTS technology to detect methane in order to help reduce the effects of global warming. Plumarea has initial indications that the technology is readily adaptable to methane detection and is working to advance the technology for the benefit of Plumarea, MSTS and the NNSS.
Many technologies result from the NNSS' national security work. As part of its technology transfer mission, MSTS — as management and operating contractor — facilitates third parties adopting MSTS technology through CRADAs, partnership agreements and licenses.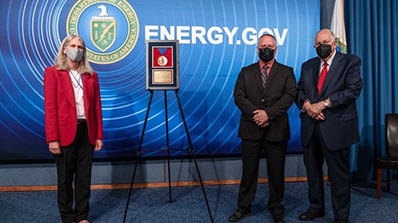 NNSA Administrator presents Weber with Linton F. Brooks Medal
NNSA Administrator Jill Hruby presented Jerry A. Weber (pictured second from right), Assistant Manager for Safeguards and Security at the Nevada Field Office, with the Linton F. Brooks Medal for Dedication to Public Service. This award is an annual recognition of an outstanding NNSA employee whose actions and deeds exemplify the spirit of commitment and achievement embodied in Ambassador Brooks' decades of selfless service.
"Linton is the epitome of public service and anyone who receives this award should be highly honored and inspired to have a career as dedicated and as impactful as his," said NNSA Administrator Jill Hruby in her remarks. "And Jerry truly epitomizes the characteristics this award was intended to recognize. He is a skilled professional tackling our nation's toughest challenges while demonstrating a strong commitment to public service."
For more information on this recognition, please click here.
NNSS gives back to the community throughout the year
Giving back to the communities in which we live and work is an important part of the fabric of the NNSS. Some highlights from the year include:
NNSS provided close to $500,000 for outreach efforts in FY21.
Almost $250,000 was provided to universities for graduate/undergraduate scholarships, research, internships, awards or Capstone projects, and university outreach that supports K-12 STEM efforts.
More than $120,000 was spent on STEM efforts for grades K-12, including: sponsorships at children's museums, science camps, STEM competitions, career fairs, field trips and STEM grants.
About $130,000 was spent on community efforts and advocacy. This included chamber memberships, organizational memberships, museum sponsorships, food bank donations and sponsorships for non-profit agency efforts/events.
In 2020, Nevada Field Office employees gave a total of $21,366.86 to benefit various nonprofit organizations in 2021. Each employee can choose a beneficiary from a pre-selected list of charities ranging from homeless services, to nature conservation, education, animal welfare and more.
During this year's annual Military Affairs Committee (MAC) Night Out — established by the Vegas Chamber to recognize members of Nellis and Creech Air Force bases — a new award was introduced. The JD Daniels Award, named in honor of NNSS Security and Emergency Services Deputy Director JD Daniels, will recognize charitable organizations in providing incredible support to veterans, their spouses and their families. The award is a nod to Daniels' dedicated support of veterans and for his leadership in the community.
Members of the media: To pursue a story on any of the above accomplishments, please don't hesitate to reach out or check out our media kit, found here.