The National Atomic Testing Museum hosted a "Night at the Museum" on Thursday, March 17, welcoming the community to learn about today's national security work happening at the Nevada National Security Site (NNSS). Mark W. Martinez, Mission Support & Test Services President, led a panel discussion of the history, scope and evolution of the work at the NNSS.
NNSS speakers included Eugene Hunt, Manager of Mission Delivery; Dr. Darcie Dennis-Koller, Acting Senior Director of Global Security; Dr. Alexis Reed, Director of Nuclear Response; and Joel Leeman, Director of Enterprise Infrastructure Programs.
Hunt shared how the NNSS contributes to stewarding the nation's nuclear stockpile through its sophisticated testing capabilities. "Pictures tell a thousand words," said Hunt. "It truly is the case when we are speaking of transformational diagnostic imaging. It's vital to our mission to be able to see what goes on in a nuclear weapon when it implodes. Being able to take pictures of that gives us that thousand-word explanation."
"Keeping people safe. That's what we specialize in," said Dr. Reed. Her team's mission includes teaching first responders how to handle a disaster with a radiological component.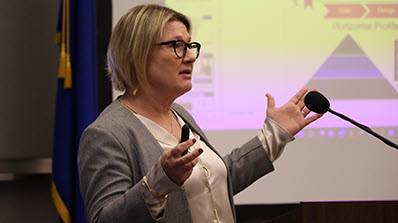 Dr. Dennis-Koller discussed the importance of Defense Nuclear Nonproliferation and the NNSS's role in using technology for awareness of nuclear weapon development around the world.
Leeman shared current and future infrastructure projects at the NNSS that support the Site's vital national security mission.
Panelists participated in a brief question and answer session with guests at the museum.