Outside of his service with the Nevada National Security Site (NNSS), Program Director of Transformation Rodney Rego serves our nation as a member of the U.S. Army Reserve. Toward the end of his last assignment as the brigade commander of the 650th Regional Support Group, based out of Sloan, Nevada, he deployed with his unit to Afghanistan. When Rego returned from the April to October 2020 mobilization and deployment, he presented a special American flag to NNSS management and operating contractor Mission Support and Test Services (MSTS) to commemorate the organization's support to the U.S. military.
Flown at the base headquarters at Bagram Airfield, the flag symbolizes the NNSS' continued partnerships with members of the U.S. Armed Forces. The accompanying certificate reads: "This American Flag was flown over Bagram Airfield, Afghanistan, in honor of Mission Support and Test Services on 1 September 2020 in appreciation for unwavering support to the U.S. Armed Forces and its service members. Your selfless and faithful dedication to the United States of America has made a positive difference during Operation Freedom's Sentinel and Resolute Support Missions."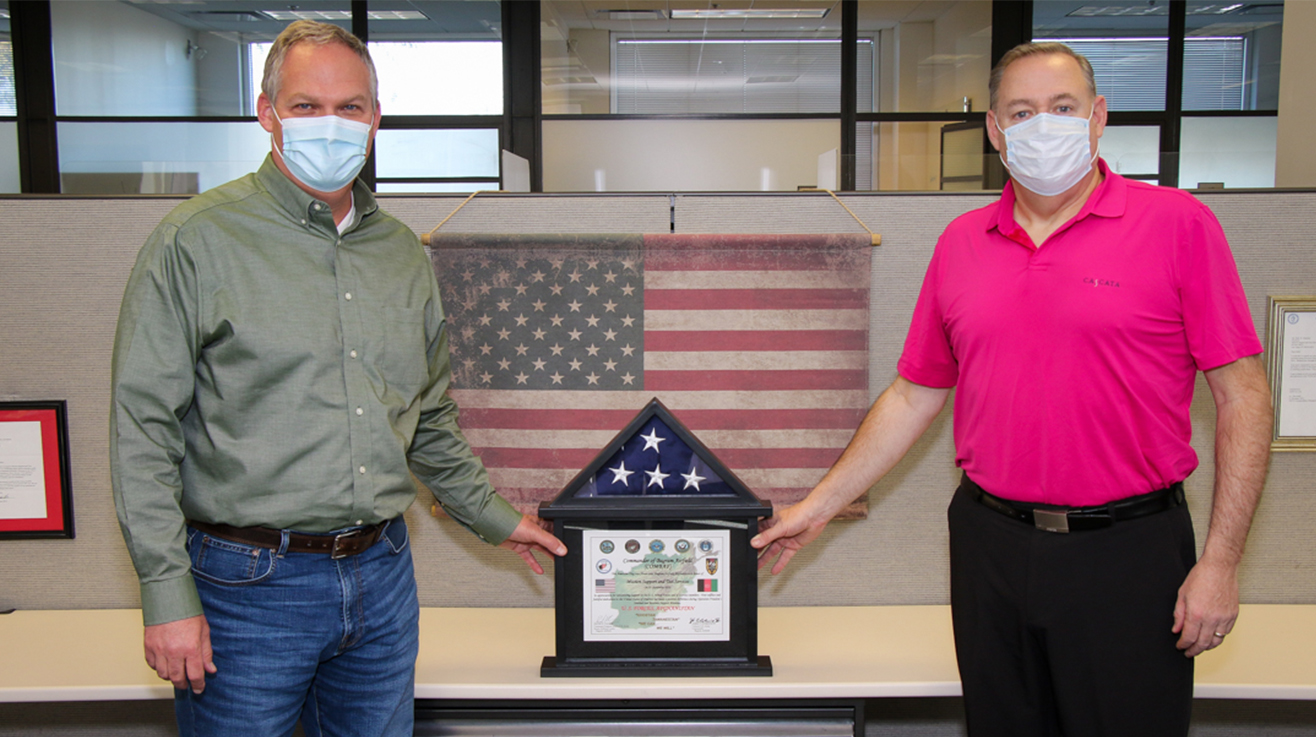 "MSTS has been such a great supporter of the military and service members," said Rego. "I thought the flag an excellent way to thank MSTS on behalf those of us who have served. I want the organization and leadership to know I'm appreciative."
The NNSS is a proud partner of the U.S. Chamber of Commerce Foundation's Hiring Our Heroes initiative, a nationwide effort to connect veterans, service members and military spouses with meaningful employment opportunities through fellowships. In addition, the NNSS also supports DoD SkillBridge, a program for service members to gain valuable civilian work experience through specific industry training, apprenticeships or internships during their last 180 days of service. Rego, a veteran of 33 years, said it was important to fly the flag in honor of the NNSS' unwavering commitment to members of the military.
"As I've fulfilled my military obligations over the years, MSTS has always been really supportive of my commitment as a reservist," said Rego. "I know through conversations with other veterans that MSTS is dedicated to provide a positive work environment for veterans. They actively seek out veterans for open positions, can help with the transition off active duty, and go above and beyond in other areas such as promoting veterans' groups and events."