When the Vegas Chamber Military Affairs Committee (MAC) recently held its fourth annual MAC Night Out, this year's event included a surprise twist—a new award named in honor of JD Daniels, Mission Support and Test Services, LLC (MSTS) Deputy Director of Security and Emergency Services.
MAC Night Out was established by the Vegas Chamber and the MAC to celebrate annual award winners from Nellis and Creech Air Force Bases and to connect award sponsors with the winners, their leadership and their families. Daniels, former chair and current member of the MAC, has been instrumental in the Las Vegas community in demonstrating appreciation for military members and their loved ones, including establishing MAC Night Out five years ago.
Daniels' support of veterans and his leadership in the community inspired the MAC to establish the JD Daniels Non-Profit Award, which was presented to him during the event on Sept. 7. Beginning next year, the annual award will recognize a charitable organization providing incredible support to veterans, their spouses and their families.
"JD has such a passion for his volunteer efforts with the Military Affairs Committee and other community support activities," said Anthony Mendez, Director of Security and Emergency Services at NNSS. "He pours his heart and soul into these events and is a true asset to this entire region. I have seen this same passion reflected in the leadership he exudes. He truly embodies what our BeyondZero Culture of Caring is all about."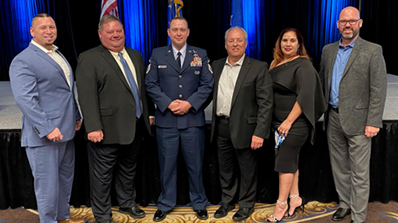 Daniels said the award took him by surprise. "I am very grateful to the MAC and the Vegas Chamber for this distinguished honor. It is very special to me and I look forward to participating in this incredible event each year."
Since established five years ago, the event has grown to more than 200 participants. Honorees now include a business that has greatly supported veterans in the Las Vegas community. Last year's event was canceled due to COVID-19.
"I have always felt it was very important to recognize these incredible men and women serving in our armed forces," Daniels said. "We must provide the recognition they deserve for serving our country and our Las Vegas community."
MSTS has been a key sponsor of MAC Night Out since its inception. Bart Jones, MSTS Senior Director of Global Security, also attended and presented the Nellis Air Force Base Senior Non-Commissioned Officer of the Year Award to Air Force Master Sgt. Jeremy Cunningham. MSTS employees and Air Force veterans Kevin James, Ken Snyder and Cynthia Ellis also attended the event to recognize Cunningham and the other award winners for their accomplishments.
MSTS is the managing and operating contractor for the Nevada National Security Site (NNSS) and satellite facilities of the National Nuclear Security Administration's Nevada Field Office. The MSTS BeyondZero Culture of Caring is our safety culture that fosters a positive environment of well-being, safekeeping and opportunity for all employees.