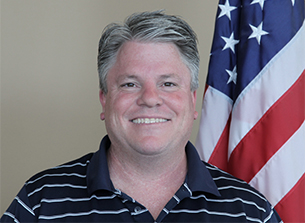 The U.S. Department of Energy (DOE) Environmental Management (EM) Nevada Program is pleased to announce the selection of Bill Wilborn as the Deputy Program Manager for Operations. In his new position, Bill is responsible for all operations related to soil remediation, deactivation and decommission of historic nuclear testing facilities, groundwater characterization, waste disposal activities, and long-term monitoring at the Nevada National Security Site and specific locations on the surrounding Nevada Test and Training Range.
Bill will take on the role (effective March 4) with more than 25 years of experience in the EM Nevada Program leading the Underground Test Area Activity, supporting the Soils Activity and Offsites Project, and obtaining his certification as a Project Management Professional and Federal Project Director. Prior to joining DOE in 1992, Bill served in the U.S. Navy for four years and earned a BS in Geology from the University of Nevada, Las Vegas.
Bill joins Catherine Hampton (Deputy Program Manager for Operations Support) and Rob Boehlecke (Program Manager) in rounding out the EM Nevada Program management team.