Defending their 2020 Nevada Science Bowl title and securing a spot to represent the Silver State at the Department of Energy National Science Bowl are Davidson Academy students from Reno, Nevada, who were named 2021 Nevada Science Bowl champions Feb. 6. Nevada Science Bowl is fast-paced question-and-answer format competition in which students are tested in a range of science disciplines, including biology, chemistry, earth science, physics, energy and math.
The first-ever virtual version of Nevada Science Bowl saw 15 teams from 12 high schools across Nevada and Utah vying for the coveted prize. In first place was Davidson Academy Team 1, who won $5,000 for Davidson Academy's math and science departments and will advance to the National Science Bowl. Preliminary rounds begin in April with the elimination tournament held virtually Saturday, May 22.
The Davidson Academy also took second place, with its Team 2 earning $2,500. Third place went to the Coral Academy of Science from Las Vegas with a prize of $1,500, and Clark High School from Las Vegas took fourth with $1,000.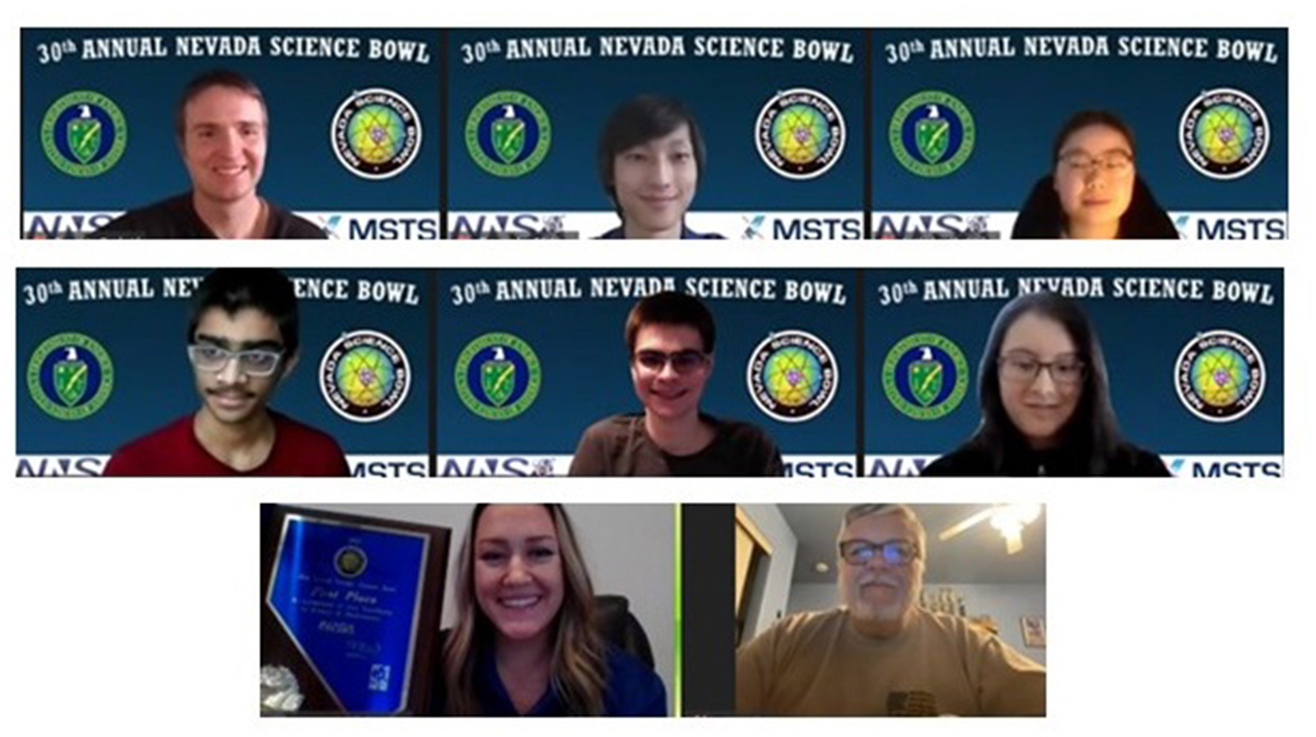 "The impressive display of talent at the 2021 Nevada Science Bowl shows the bright future ahead for STEM career fields," said National Nuclear Security Administration Nevada Field Office Manager Dr. David Bowman. "Thank you to the students and coaches for your exemplary sportsmanship, hard work and commitment to the competition this year under challenging conditions. We are very proud to support Nevada math and science education—a vital component in sustaining U.S. economic leadership and maintaining our national security."
The event was presented by the Department of Energy National Nuclear Security Administration Nevada Field Office (signature sponsor), Mission Support and Test Services LLC, Environmental Management Nevada Program, Bureau of Reclamation, SOC, Navarro, and JGMS, Inc. Nearly two dozen volunteers from the Nevada National Security Site community ensured the trivia questions, scoring and communications ran smoothly.
Follow the road to the National Science Bowl on Facebook and Twitter. For more information about the Nevada Science Bowl, visit our webpage.