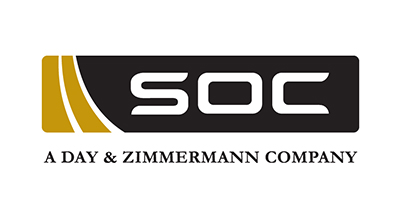 SOC LLC, a Day & Zimmerman company, initiated its services March 1, 2018, starting day one of the Protective Force Contract for the Nevada National Security Site (NNSS) under the Department of Energy (DOE)'s National Nuclear Security Administration (NNSA). The NNSS plays a critical role in maintaining the nation's nuclear deterrent and supporting other vitally important national security missions. SOC is supported by integrated small business subcontractors Longenecker & Associates, Protection Strategies Inc., and MCH Corporation. SOC's services include static, rolling and perimeter security, escort services, facility inspections, force-on-force exercises, training, technical security and systems monitoring, as well as other special and emergency response activities.
"SOC is honored to be a part of the important change taking place now at Nevada National Security Site. After a long tenure from the previous contractor, the Department of Energy has chosen SOC," stated Anthony Mendez, General Manager SOC NNSS. "It is the people who make this operation successful and we have a commitment to lead the transitioning workforce into the future, as they are an important part of the NNSS history and success," he added.
"Our team of SOC leaders will apply our foundation of strong core values and collective team experience to bring a fresh approach to sustain and strengthen all Nevada National Security Site Protective Force operations," said Billy Conner, Senior Vice President, SOC. "As the first new contractor to manage protective force services at NNSS in more than 50 years, we understand the importance of establishing success early on and look to build important partnerships in the community," he added.
With a company history of nearly 75 years supporting DOE, Day & Zimmermann and SOC together have provided safeguards and security services, maintenance and perations, and architecture and design services to protect national security assets that include nuclear research, development, and manufacturing environments.
In addition to SOC's work at the NNSS, SOC is a Joint Venture partner of Consolidated Nuclear Security LLC (CNS). CNS currently manages and operates the Pantex Plant and Y-12 National Security Complex on behalf of the NNSA. SOC also provides protective force services for a major multidisciplinary national security engineering laboratory supporting the NNSA. For more than 20 years, SOC provided best-in-class protective force services at one of the largest national laboratories supporting NNSA, safeguarding national security assets in a federally-funded research and development environment.
SOC, with a 38-year history operating in Nevada, has been serving the U.S. National Security Mission for nearly four decades at Hawthorne Army Depot, one of the largest demilitarization sites in the world.