The U.S. Department of Energy (DOE) Environmental Management (EM) Nevada Program's environmental program services contractor has developed a new small-grants program to support science, technology, engineering, and math (STEM) programming at schools near the Nevada National Security Site(NNSS).
A committee led by a Navarro Research and Engineering employee is concentrating on four main areas for Navarro's Community Commitment Program: field trips to the NNSS, STEM-focused events and competitions, student-directed interactive experiences, and small-grant funding to support STEM classroom needs, such as supplies, equipment, and emerging technologies. The committee is currently focusing on the launch of the new small-grants program for the fiscal year that began Oct. 1.
"Navarro is pleased to offer this new small-grants initiative through our Community Commitment Program to support STEM programming at local schools here in Nevada," said Susana Navarro, Navarro's president. "Our goal is to provide teachers with the resources to introduce new concepts to the classroom and inspire students to pursue a career in the STEM fields, helping to lay the foundation for a highly skilled future workforce for Department of Energy and employers in Nevada and across the nation."
Eligibility for the grants program is open to public, private, and charter schools in the counties of Clark, Elko, Esmeralda, Lincoln, Nye, and White Pine in Nevada. All K-12 schools and classrooms are eligible to apply; however, preference will be given to applications supporting clearly defined STEM-based activities. Applications are due by close of business on Dec. 10. The committee will review all grant applications and ultimately forward recommendations for funding to Navarro. Details and applications are available on the Navarro website at https://navarro-inc.com/navarro-community-commitment-grants-program/.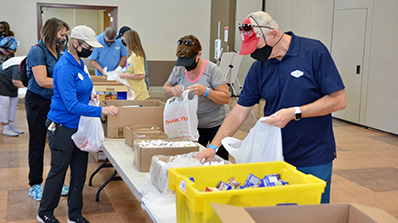 Navarro is supporting the grants program and broader Community Commitment Program through a portion of the annual performance-based fee award for its contract.
The new initiative was established under Navarro's Community Commitment Plan, an element of EM's end state contracting model. That model calls for cleanup work to be carried out through a series of negotiated task orders that aim to get projects to completion faster and more efficiently without sacrificing safety.
The Community Commitment Planning Committee is currently comprised of two Nevada Site Specific Advisory Board members and three local community education stakeholders. Committee members have assisted with identifying potential projects, community needs, recommendations for the allocation of monetary support, and the facilitation of employee involvement.