All 97 employees of the EM Nevada Program and environmental program services contractor Navarro recently relocated to an energy-efficient office building, saving an estimated $3.2 million or more over the next 10 years and shrinking their workplace footprint by 25,000 square feet.
"What really stood out to me was how quickly the team got together and made this move happen," EM Nevada Program Operations Support Deputy Program Manager Catherine Hampton said. "It was less than seven months from the day we signed the lease to the day we moved in. And to accomplish what we did in that short timeframe was quite an incredible feat."
The EM Nevada Program may continue to lower costs by further reducing its space at the Molasky Corporate Center as the program completes its remaining cleanup mission. The EM Nevada Program is currently using about 15,000 square feet of space at the center, which is also home to offices of the Internal Revenue Service and Secret Service.
In a key cost-saving initiative, the EM Nevada Program used existing floorplans at the center instead of configuring new workplace spaces, repurposed sound absorption features, and relocated energy-efficient lighting from its previous location.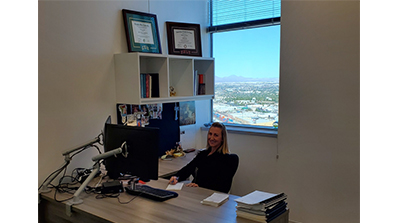 Safety was the top priority of move-in day. With more than 800 boxes, 100 bins, computers, printers, and other assorted equipment, staff members worked with multiple vendors to ensure a successful transition to the new location with no incidents or injuries.
For more information on the EM Nevada Program, click here.