On October 17, the U.S. Department of Energy's Environmental Management (EM) Nevada Program hosted the 8th Groundwater Open House at the Beatty Community Center in Beatty, Nevada. The public event provided community members information about ongoing groundwater characterization and long-term monitoring activities at the Nevada National Security Site (NNSS). The EM Nevada Program team discussed the history, successes and long-term monitoring work being performed at the NNSS and how these ongoing efforts continue to keep the public safe from groundwater contaminated by historical underground nuclear testing.
Information provided at the Open House highlighted results of scientific investigations showing that groundwater in the area is safe, promoted long-term monitoring activities and shared results of sampling at Pahute Mesa, which is a groundwater characterization area located in the northwest portion of the NNSS. In addition, Nye County was on hand to discuss groundwater sampling activities conducted in the vicinity of Beatty, Lathrop Wells and Amargosa Valley. Results of Nye County sampling activities continue to show that the groundwater in the area is not contaminated from historic underground nuclear testing. Rounding out the team of experts committed to sharing their decades of knowledge on the NNSS and groundwater were representatives from the Desert Research Institute (DRI); Lawrence Livermore National Laboratory; Los Alamos National Laboratory; Mission Support and Test Services (MSTS); National Nuclear Security Administration, Nevada Field Office; Navarro; Nevada Division of Environmental Protection; and U.S. Geological Survey.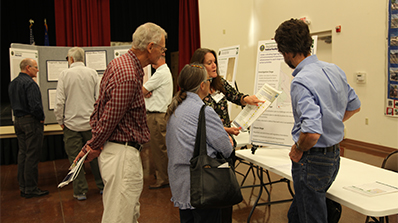 Special visitors at the Groundwater Open House were Beatty Girl Scout Troop 775, who were enthralled during a groundwater demonstration by Navarro hydrologist, Jeff Wurtz. Troop leader, Carlotta Marinaro of Beatty, was excited for her troop to talk with the experts and view the groundwater video and posters, stating that it's "good for them to learn about the environment and geology of their community, and to speak directly to the scientists who study it."
The EM Nevada Program prioritizes transparent communications with communities neighboring the NNSS, particularly on the safety of the groundwater. This includes providing information that is published annually in the NNSS Environmental Report, which contains results of sampling conducted by the EM Nevada Program, DRI, MSTS and Nye County. Informing our neighbors and inspiring the next generation to look at the environment around them in new ways is one of the many reasons why timely, transparent communication continues to be a vital and important part of the EM Nevada Program.