In support of expanding the National Nuclear Security Administration's national security mission at the U1a Complex, which requires extensive mining efforts, new mining equipment was ordered and received recently at the Nevada National Security Site (NNSS).
The NNSS Fleet, Fuel & Equipment Services (FF&E) team, with assistance from the Mission Support and Nuclear Asset Operations directorates, hoisted and lowered four mining equipment pieces, totaling 115,000 pounds, down into U1a. What makes this job exceptional were the flawless planning, collaborative effort and exact execution to pull this off without incident to workers and U1a, especially the deep shaft itself.
Each mining equipment piece was not only heavy but dimensionally challenging. To get them down the shaft, FF&E disassembled much of the mining equipment above ground, then using a 350-ton Manitowoc crane, lowered each piece approximately 1,000 feet into the U1a line-of-sight utility shaft and then re-assembled underground. These four pieces, including the load haul dumps, are to further enhance the capabilities of mining underground.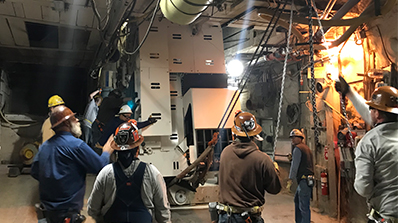 This is the most recent procurement of mining equipment in 30 years at the Site, said Rick Medina, Site Services manager.
"This purchase speaks to the critical investment needed to support the future expanding national security mission of U1a and will augment mining assets currently being used there," he said.
What made this whole job impressive were the meticulous planning and teamwork, Medina added.
"There's been a focus on planning crane operations, such as hoisting and rigging," he said. "Lowering that heavy equipment is slow. Lots of hazards are involved. We've never lowered so many items within two days, especially equipment this heavy. We also brought up two mining power center units for repair and maintenance. We couldn't have done it without an integrated team working together with the same focus on safe work execution. It was a job well done by all involved."
To learn more about U1a, click here.