The Nevada National Security Site (NNSS) is training the next generation of 21st-century contributors to national security through the Site's military internship program. Cadets and midshipmen are interning with the NNSS this summer to learn civilian skills that they can apply in their military careers. For eight years, the NNSS has hosted these interns from the Air Force Academy, Annapolis (Navy) and West Point (Army) in a variety of missions.
From May to the first week of July, Air Force cadets Denisha Bennett and Joseph Taylor worked with Ted Redding of the Ecological and Environmental Monitoring department to support the NNSS' wildlife protection and environmental radiation monitoring programs. They tracked desert tortoise movements using VHF antennae/receivers in research studies including movements of tortoises near roads, and monitored translocated juvenile tortoises.
Working with the tortoises "was harder than I expected to track down because they're hard to find," added Taylor.
Bennett and Taylor also worked with the environmental monitoring group to determine the level of tritium, a radioactive form of hydrogen, in vegetation around the Schooner and Sedan craters.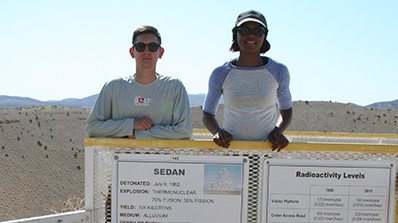 "We don't have the results yet, but the research process and techniques to determine radioactive levels of tritium was cool," said Bennett.
The interns said that they're fascinated with their experiences at the Site.
Two West Point cadets and an Annapolis midshipman will join our national security mission this summer at the Remote Sensing Laboratory at Nellis and with the Defense Experimentation & Stockpile Stewardship directorate, respectively.
The National Nuclear Security Administration (NNSA)'s NA-10 group has been funding these internships. At each of NNSA's eight sites, leading-edge research and development is carried out on key national security technologies critical to the United States and its allies. Programs include science, technology and engineering essential to sustaining the nation's arsenal of nuclear weapons, plus a wide array of work on other efforts for the Departments of Defense and Homeland Security, among others, plus support to the Intelligence community.