Mission Support and Test Services (MSTS), the management and operating contractor for the Nevada National Security Site (NNSS), has earned Star Site status through the Department of Energy's (DOE) Voluntary Protection Program (VPP).
VPP encourages and recognizes excellence in occupational safety and health protection. Contractors whose programs meet the requirements for outstanding safety and health programs receive Star recognition, the highest achievement level.
"This is an exemplary achievement that signifies our company's steadfast commitment to safety and health, above all else," said Stacey Alderson, Director of Environmental, Safety and Health at NNSS. "All of our employees, even in the midst of facing significant challenges with the pandemic, attrition, and increasing workloads, made this recognition possible. Fly those Star VPP flags with pride!"
The NNSS has been actively involved in VPP since May 2009 and has held Star Site status under previous contracts. After applying for and receiving transition status in 2017, MSTS was set to receive its onsite review in 2020, but it was postponed due to COVID-19 travel restrictions.
The review, conducted by the DOE's Office of Environment, Health, Safety, and Security from May-August 2022, found that MSTS "fully supports the integration of safety into all aspects of the mission, and the rights of workers to pause, stop, or refuse unsafe or at-risk work."
"MSTS, as indicated by retaining their Star status, has shown their commitment to maintaining the health and safety of the workforce, providing employees at all levels the opportunity to be involved in the health and safety program through safety committees, and using proven methods, processes, and procedures to identify, analyze, and control hazards," said Dr. David Bowman, Manager of the National Nuclear Security Administration's (NNSA) Nevada Field Office, the federal oversight for NNSS. "MSTS also maintains accident and injury rates that are substantially lower than the NNSA and industry averages."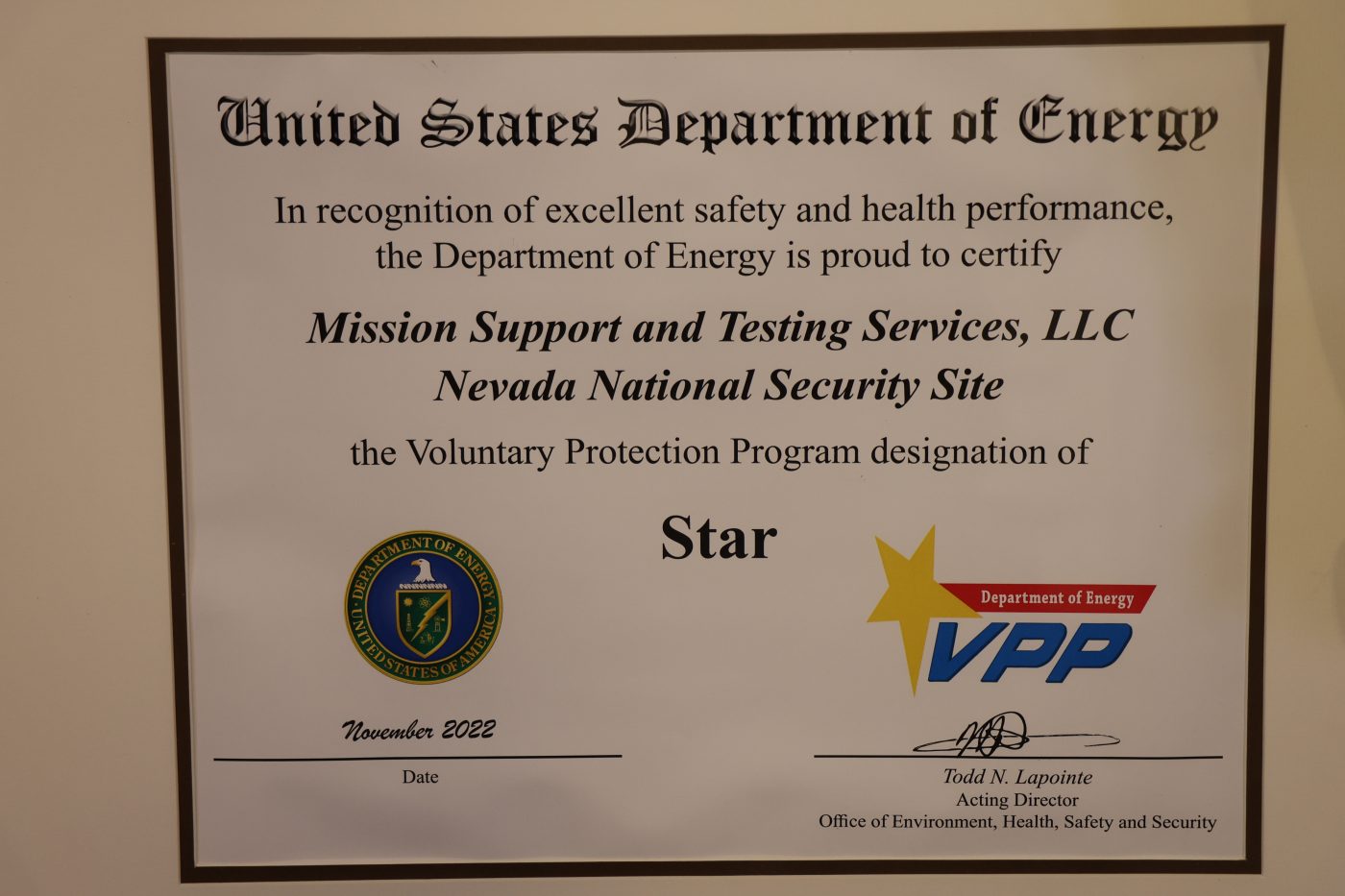 Bowman presented the VPP flag to MSTS President Garrett Harencak on Jan. 30, noting that the flag "represents the MSTS commitment to continuously improve safety and pursuit of safety culture excellence."
Harencak accepted the flag and thanked the workforce for their relentless pursuit of safety while delivering on their national security mission.
"Our greatest, most important asset is our people," Harencak said. "This award shows that that's what matters most to you. We take care of the mission by taking care of each other."
The Star Site recognition comes on the heels of MSTS achieving the Star of Excellence, the highest level of achievement awarded by DOE-VPP. The Star of Excellence is given to sites which achieve injury, illness and lost workday rates at least 75% below the Bureau of Labor Statistics national average for their industry code.
The Star Site review consisted of formal interviews, document reviews, briefings, and site walk-throughs.
"Over the past five years, MSTS has refocused work at the site to expand the NNSS missions and capabilities as directed by the NNSA," according to the DOE Star Site report. "Site capital improvements at several facilities and improvements in site infrastructure are helping site users conduct hazardous work vital to the Nation's security, nuclear stockpile stewardship, and global security. Much of this work requires special safety considerations and cannot be accomplished anywhere else. MSTS effectively manages the resources provided and provides workers with the necessary training, tools, and procedures."