Mission Support and Test Services has been awarded the Department of Energy Voluntary Protection Program (DOE-VPP) Star of Excellence.
"This is an exemplary achievement, especially given the stressors of the current pandemic and growth in work at the NNSS," said Stacey Alderson, Director of Environmental, Safety and Health. "MSTS employees' continued dedication to performance and safety while facing complications like these is what won this award, and I thank everybody for creating and contributing to the culture that made it possible."
The Star of Excellence is the highest level of achievement awarded by DOE-VPP. It is given to sites which achieve injury, illness and lost work day rates at least 75 percent below the Bureau of Labor Statistics national average for their industry code, meet annual DOE VPP goals, and demonstrate strong involvement in the VPP Participants Association, VPP mentoring and outreach. The award recognizes these accomplishments at all MSTS-managed sites and facilities, including not only the Site itself and the North Las Vegas Facility, but all outlying locations as well.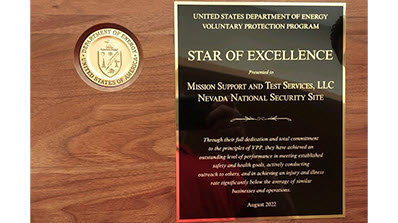 "No matter where in the country you are, if you're part of MSTS, that commitment to excellence is there," said Alderson, "And it shows."