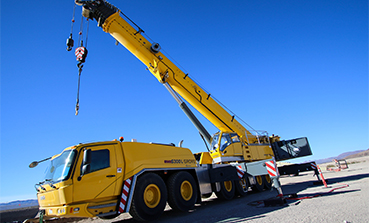 Cranes have been an integral part of work at the NNSS since the nuclear testing days. Over the years, it's been a tradition to name most of the Site's cranes. For example, "Big Blue," or "Old Blue," a Manitowoc Truck 4600 Series 5; "Old Glory," also a Manitowoc Truck 4600 Series 5; "Old Yeller," a Manitowoc Ringer 4600; "Big Foot," a Manitowoc 750 4600 Heavy Life TMS 5145; "6000," a Manitowoc Crawler 6000; and "the Lampson," a Lampson Translift LTL-800.
A new crane – a Manitowoc Grove GMK6300L – recently joined the ranks of the Site's equipment family, and it needed a name.
The NNSS decided to hold a contest to name the new crane. In January, name suggestions were solicited from all NNSS employees and contractors to see who could come up with the best work-appropriate name. More than 220 unique names were submitted, and the list was narrowed down to seven.
From there, the finalists were brought to social media, where the public voted for their favorite names on the NNSS' Facebook and Twitter pages (@NNSANevada). Polling ended at 11:59 p.m. Friday, Feb. 9.
With 28.78 percent of the vote, Leona – submitted by Adam DaeGorn – was the clear winner. Adam's name suggestion was inspired by Leona Harriet Woods (aka Leona Woods Marshall and Leona Woods Marshall Libby), the youngest and only female member of the team that built and experimented with the world's first nuclear reactor, Chicago Pile-1.
The first runner-up, with 21.33 percent of the vote, was Craneosaurus, submitted by Heath Petersen. The second runner-up, with 18.63 percent of the vote, was Ichabod, submitted by Eddie Solis. Total, 483 people voted in the online poll to select the winner.