NNSS hosts 31st annual Nevada Science Bowl, virtual for second time
On Feb. 5, the NNSS virtually hosted more than 100 students in the 31st Annual Nevada Science Bowl. For the third year in a row, Davidson Academy earned first place and the opportunity to represent Nevada at the Department of Energy's National Science Bowl.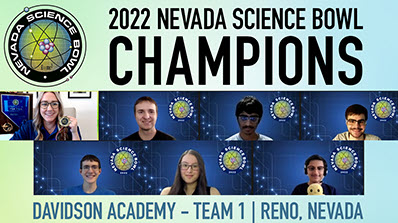 Read more about this year's event.
Dr. Marylesa Howard wins 2022 Sidney D. Drell Science & Technology Award
NNSS' Dr. Marylesa Howard, a manager in Diagnostics Research and Material Studies, won the 2022 Sidney D. Drell Science & Technology Award. The annual award recognizes one individual who exemplifies excellence in the intelligence, homeland security and national security communities.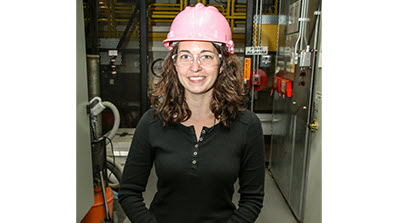 Read more about this recognition.
MSTS team wins prestigious Pioneer Award for Excellence
The Business Operations unit of Mission Support and Test Services (MSTS), the NNSS' management and operating contractor, earned the Pioneer Award for Excellence, the second highest honor granted by the Southwest Alliance for Excellence (SWAE).
Read more about this prestigious recognition.
Site Occupational Medical Director recognized as Health Care Headliner
In February, NNSS Site Occupational Medical Director Dr. Alex Malone was recognized by local business publication Vegas INC as one of its 2022 Health Care Headliners, in the Community Outreach category.
To read Malone's story, leave the NNSS' website and visit Vegas INC's website.
NNSS teams recognized with NNSA Defense Programs Awards of Excellence
NNSA recognized 10 NNSS teams with Defense Programs Awards of Excellence March 15. Adding further prestige to the honors, NNSA additionally awarded an Exceptional Achievement merit to six NNSS teams. More than 170 federal, contractor and National Laboratory personnel were recognized for their contributions to various Defense Programs projects.
NNSS supports execution of Miramar at Lawrence Livermore National Laboratory
The NNSS supported the execution of Miramar on April 5 at the Lawrence Livermore National Laboratory (LLNL) Site 300 facility, delivering diagnostic, analysis and operational support. All five first- and second-tier diagnostics delivered excellent data. An extensive collaboration across LLNL, Los Alamos National Laboratory, the United Kingdom's Atomic Weapons Establishment and the NNSS, Miramar is a major milestone in an upcoming subcritical experiment series, named "Nimble."
NNSS joins federal, state, local partners for Cobalt Magnet 22 radiological incident exercise
The NNSS joined more than 30 local, state and federal agencies May 16-20 to participate in the Cobalt Magnet 22 exercise in Austin, Texas. Led by NNSA, the exercise was a high-level drill designed to train the agencies to coordinate responses during, and ensure preparedness against, radiological threats. The exercise scenario simulated a radiological attack on the city of Austin, prompting response personnel to practice protecting public health and safety, providing emergency relief to affected populations, and restoring essential services at various locations throughout the city.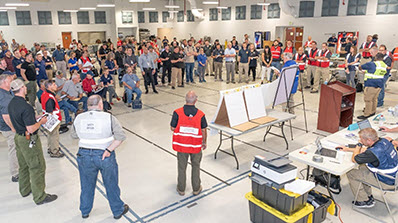 NNSS welcomes more than 100 students in fourth annual Student Program
The NNSS' 2022 Student Program provided 106 students — a 100% increase from 2021 — with internships, either virtually or in-person.
Nearly half of the participating student interns attend Nevada schools, including the University of Nevada, Las Vegas; the University of Nevada, Reno; the College of Southern Nevada; and Touro University. The remaining students represented more than 20 states throughout the United States.
MSTS achieves EVMS certification
In June, MSTS achieved Earned Value Management System (EVMS) certification, which will enable U1a Complex Enhancement Project (UCEP) leaders to make high-quality decisions surrounding cost, schedule, and risk.
While implementing an EVMS is a contract requirement for all NNSS work, certification of the system by the DOE is required on capital line item projects exceeding $100 million, such as UCEP.
"The certification process is quite rigorous and is designed to stress a site's system to the limits, expose areas that need improvement and ensure appropriate controls are implemented to maintain cost and schedule performance," said NNSS Program Integration Office Director Jon LeMarr. "Implementation assures higher credibility for the government that taxpayer-funded projects are delivered with best value."
The credibility achieved through certification opens the door for UCEP to move from the planning phase to the execution phase, and the next round of funding to make it happen. Read more about Earned Value Management.
Read more about UCEP at the following stories:
Veolia trains with hazardous chemicals at one-of-a-kind NNSS facility
Training prepares students to fight accidental spills involving toxic materials
As part of a two-week, intensive training course in June, employees of Veolia trained at the NNSS' Nonproliferation Test and Evaluation Complex (NPTEC), the largest facility for open-air testing of hazardous materials and biological simulants in the world. (All projects are conducted within environmental and safety regulations.)
Due to the nature of materials used by Veolia, spills in transit or at production facilities possess a high potential to produce a massive vapor cloud. Such spills could endanger employees who work with the chemicals, and could pose a risk to the broader public. The topography, wind predictability and location of NPTEC offers partners like Veolia a secure, controlled, and realistic environment for training to mitigate those risks.
"We've shown over the years that the training at the NNSS is highly effective in reducing the severity of unintended releases," said Veolia Operations Chief Brad Van Scoik. He said the company has used the services at NPTEC every two to three years since 1992.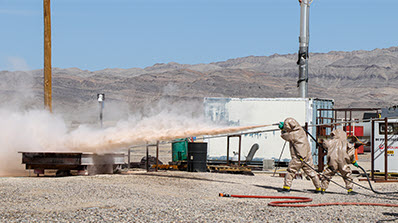 Private defense company to test leading-edge technologies at the NNSS
Privately owned defense products company Anduril is on the front line of a new generation of defense contractors. Its focus is on achieving advances in software engineering and computing rather than, say, shipbuilding or aircraft design. To achieve these breakthroughs, Anduril has some unique requirements for airspace testing—requirements that they will meet through an agreement with the NNSS.
As part of this new NNSS-Anduril partnership, NNSS has made available land and airspace for Anduril research and development and testing. In addition to Anduril, the NNSS hosts a number of other national security partners from the federal government and the private sector.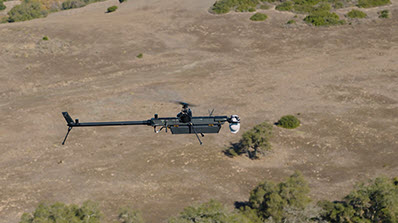 NNSS improves buildings' energy efficiency
In July, the NNSS obtained High Performance Sustainable Building (HPSB) certification for the Mercury Dorms and Buildings 23-531, 23-532 and 23-535, improving the NNSS' portfolio with energy-efficient facilities and focusing further on sustainable design principles.
1,000 feet below the Earth's surface, NNSS hits construction milestone
In late July, NNSS leadership gathered with more than 200 craft workers, construction workers and facility support staff to mark the end of the highly successful first phase of UCEP — UCEP 10 — and formally kick off the next phase, UCEP 20.
A $560 million construction project, UCEP 20 will install the infrastructure that will support the expansion of underground subcritical experiments at U1a. Estimated to take about three years, it will involve hundreds of employees working both day and night shifts, amounting to 20 hours a day. UCEP 10 — a $50 million construction project — came in $3 million under budget and one year ahead of schedule.
In recent years, MSTS leadership and employees have helped to grow the NNSS' annual budget from $480 million to $920 million. UCEP has been a major factor in the additional investments.
Read more about this milestone or watch our video.
MSTS earns five-year contract extension
NNSA announced it will exercise Option Terms 1 through 5 of its contract with MSTS, which took over as the NNSS' management and operating contractor on Dec. 1, 2017.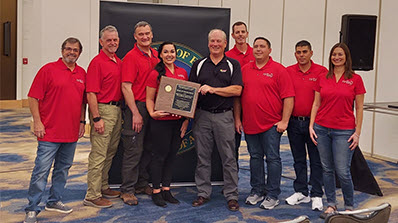 Read more about NNSA's contract extension with MSTS.
MSTS receives DOE Star of Excellence
MSTS has been awarded the DOE Voluntary Protection Program (DOE-VPP) Star of Excellence, the highest level of achievement awarded by DOE-VPP. The award recognizes accomplishments at all MSTS-managed sites and facilities.
"No matter where in the country you are, if you're part of MSTS, that commitment to excellence is there," said Environmental, Safety and Health Director Stacey Alderson, "and it shows."
Read the full article on MSTS' VPP recognition.
Learn more about DOE-VPP and the Star of Excellence award.
NNSS receives EPEAT Purchaser Award for sustainability in IT
The NNSS was recognized by the Global Electronics Council (GEC) as a 2022 EPEAT Purchaser Award winner.
The EPEAT Purchaser Award recognizes organizations for excellence in sustainable procurement of electronic equipment identified as more energy efficient, less toxic, longer lasting and easier to recycle than products that do not meet EPEAT criteria, while also addressing labor and human rights issues along the entire supply chain.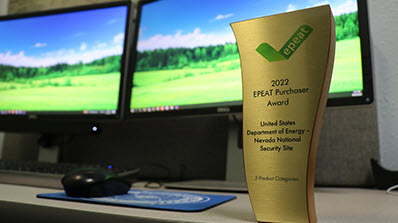 GEC is a non-profit organization that manages the EPEAT ecolabel. Read more on the NNSS' recognition.
NNSS Machine Shop addresses niche need in the Nuclear Security Enterprise
Late last year, the NNSS collaborated with Pantex Plant on special tooling for NNSA's W80-4 Life Extension Program. As a result of the NNSS Machine Shop's successful delivery of the requisite tooling, the NNSS fulfilled approximately $2 million in new work in 2022 and received additional orders from National Weapons Laboratories collectively resulting in an additional $5.3 million in work in support of NNSA's Weapon Modernization program.
NNSS delivers seven fully assembled gamma ray detectors
The NNSS completed a Level 2 Milestone—an important or critical event and/or activity that must occur in a project cycle to achieve the project objective(s)—by delivering seven fully assembled gamma ray detectors.
This is a critical first step toward creating a gamma ray detector "wall" 1,000 feet underground at the NNSS' U1a facility. Upon completion, the "wall" will measure 3 meters in diameter and comprise 151 detectors, which will be used as part of future Neutron-Diagnosed Subcritical Experiments (NDSE) work.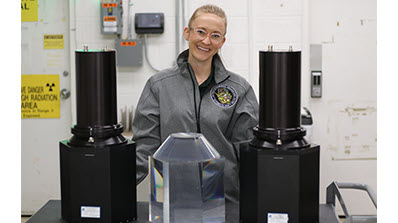 As Cygnus machine approaches 5,000 shots, NNSS completes refurbishment
When the Cygnus dual axis X-ray machine was originally put to work underground at the NNSS' U1a facility in 2004, it was only expected to be in service for about two years and a few hundred shots (essentially, a single series of subcritical experiments). Its high-resolution X-rays taken 1,000 feet under the desert were so successful, however, that it's become the workhorse supporting stockpile stewardship initiatives ever since.
The NNSS completed refurbishment of the Cygnus machine this year, significantly increasing the lifespan and efficiency of the Cygnus source, which is approaching 5,000 shots and has been the sole U.S. radiographic capability for shock waves studies involving plutonium.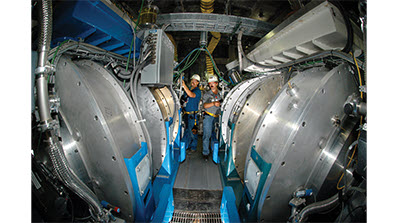 Read more about Cygnus in the NNSS' U1a fact sheet.
NNSS supports JASPER enhancements
The NNSS supported qualification testing for the Joint Actinide Shock Physics Experimental Research (JASPER) facility 40mm ultrafast closure valve system (UCVS) at the Big Explosives Experimental Facility (BEEF), a critical part to the development of a 40mm projectile and target capability for JASPER. The 40mm capability will allow for more target real estate for diagnostics than what is available in a 28mm configuration, a requirement for future actinide experiments. Qualification of the new 40mm UCVS is important for bringing new capabilities online at JASPER and allowing use of the same UCVS for both launch tube diameters, which is beneficial in controlling the cost of fielding shots.
NNSS expands satellite coverage for international nuclear/radiological emergency communications
The NNSS continued to occupy a place on the world stage with the Emergency Communications Network (ECN) Program. As the program grows, so does its bandwidth and international coverage. In April and October, the program supported NNSA's NA-80 Office of Counterterrorism and Counterproliferation exercises in Asia by providing deployed responders, Mobile ECN kits, field training, and Network Operations Center reachback. In May and August, the program provided the same deployed support to NNSA's NA-232 Office of Nuclear Material Removal exercises in Europe. They also provided real-world support to the Strategic Petroleum Reserve from June through November during hurricane season. The DOE and NNSA rely on the ECN Program satellite capability and highly trained emergency responders to facilitate these global events.
"ECN is one of the best teams in government," said NNSA Chief Information Officer James Wolff, who visited the NNSS' ECN office earlier this year.
In addition to technical support for exercises and readiness posture for real-world events, the program also maintains rigorous cybersecurity oversight of its network. In August, the ECN Program passed the Command Cyber Readiness Inspection Site Assistance Visit on its first attempt. Fewer than 10% of testers pass the first time. The achievement is a major step toward establishing interconnectivity for classified communications with other government agency mission partners: a key mission requirement for DOE/NNSA responders.