The U.S. Department of Energy National Nuclear Security Administration's Nevada National Security Site (NNSS) hosted more than 40 students from all across the U.S., either virtually or in-person, for its 2021 summer Student Program. While nearly half of the students attend the University of Nevada, Las Vegas (UNLV) and University of Nevada, Reno, many are studying at other outstanding institutions, including Brigham Young University, the University of Arizona, Arizona State University, Rutgers, Kansas State University, Texas A&M, the University of California, Berkeley and more.
One requirement of the Student Program is that participants deliver a presentation on one of their completed projects to the managers, directors and senior director for their assigned directorate. Each directorate then chooses a student to give their presentation to the Senior Leadership Team (SLT). Students presenting to the SLT this year were Connie Mi, Nicole Castro, Christopher Tsuchiyama, Kim Gonzalez, Cecil "Lamarr" Gill, Portia Blackert and Madisen Yoder.
Connie Mi, an engineering math and statistics double major at the University of California, Berkeley, worked in Stockpile Experimentation and Operations to create algorithms to correct electron beam drifts. Mi's internship allowed her the opportunity to actively participate in each step of the engineering design process from data collection to testing her written code. Through these steps, Mi gained a greater understanding of how engineers problem-solve and deliver solutions from start to finish.
Nicole Castro, a human resource management major at Western Governor's University, spent her summer interning in the Compensation, Benefits and Talent Acquisition departments within Human Resources (HR). Over the course the summer, her internship allowed her to be part of the entire recruiting and employee life cycle. She was able to understand the ways in which HR works in unison with other departments to provide results and achieve common goals for new hires and active employees.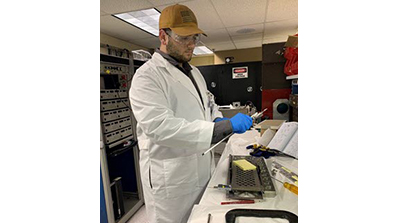 "The NNSS has made a lasting impression on me," Castro said. "Each and every day I felt supported and empowered not just by my team members but by every employee I came across. I am incredibly grateful for this experience and am excited for what the future holds."
Madisen Yoder, an economics major at UNLV, returned to the NNSS for her third summer internship. This year, she interned with the Capital Line Items group. She created and implemented a management tool allowing managers to analyze schedule variances for the U1a Complex Enhancements Project (UCEP). She also performed cost transfers, produced monthly reports displaying the financial efficiency of UCEP and created work authorization documents.
"When I started my internship, I didn't even know what project controls consisted of," said Yoder. "Fast forward to now, and I am taking on various responsibilities and helping monitor the schedules and budgets of capital line item projects. I have strengthened my finance knowledge by applying some of the concepts I've learned in school while analyzing the financial data for UCEP. I have also learned how to operate new computer programs, which allows me to obtain necessary project controls data. A soft skill I have strengthened would be my virtual business communication skills. Interning in a new role amidst a global pandemic allowed me to navigate through the struggles of virtual communication."
These three students, along with many others, will work part-time as casual employees during the school year to further grow in their professional endeavors.
For more information about the NNSS Student Program, visit: https://nnss.gov/nfo/1488-2/ or reach out to Student Program Coordinator Terri Shafer at shafertl@nv.doe.gov.