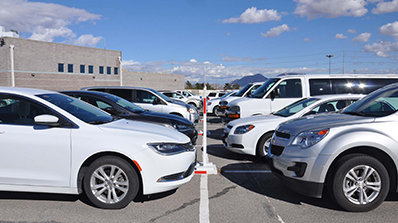 The NNSS' Fleet, Fuel & Equipment Services team has done it again: They snagged more FLEXY award nominations for fleet excellence!
The National Association of Fleet Administrators (NAFA) is the world's premier not-for-profit association for professionals who manage fleets of sedans, law enforcement vehicles, trucks and buses of all types and sizes, and a wide range of military and off-road equipment for organizations across the globe. Within the NAFA organization, Fleet Excellence Awards (FLEXYs) is an annual award program dedicated to recognizing the best and the brightest in the fleet management profession.
This is the second FLEXY finalist nomination for Site Services Manager Rick Medina and his team. (The NNSS Fleet was among the top three FLEXY winners last year.)
"I am proud of our team and the inroads we've made in fleet and fuel management, particularly toward caring for our fragile environment at the Site," said Rick.
Fleet has been selected as a finalist in two areas of the FLEXY competition:
Excellence in Sustainability
Excellence in Fleet Safety
In the area of sustainability excellence, Fleet, Fuel & Equipment Services hasresearched and procured an alternative fuel called R-100that provides excellent performance, cost and environmental value as opposed to the use of B-20 biodiesel, and can be credited for 100 percent renewable credits complying with a federal executive order on federal sustainability in the next decade. In an effort to achieve environmental excellence, the NNSS was able to purchase less petroleum fuel, while increasing the use of alternative fuels and emitting less harmful greenhouse gas emissions to our environment.
In the area of fleet safety, the NNSS has made historical strides to improve vehicle and driver safety through the use of back-up sensors as standard order on all GSA vehicles used on the NNSS.
Driver aides have been used in areas such as steering wheel covers as a visual reminder for drivers to be alert when backing up. The use of telematics has been mandated that monitors vehicle operating systems, and can also provide safety indicators of speed, hard-breaking and reckless driving. These are but a few innovative and technology driven items that are being tested and implemented within the NNSS fleet for the purpose of safety and sustainability.
There will be a special opening night awards ceremony at NAFA's Annual Institute & Expo in Anaheim, Calif., where the winners will be announced April 24, 2018.