Stop, drop and roll, 9-1-1 do's and don'ts, and smoke detector safety were on the agenda at the recent Fire Prevention Month community outreach event at Judy & John L. Goolsby Elementary School in Las Vegas.
Second grade students were able to meet with five firefighters and ask questions, try on the crews' personal protective equipment, and gently climb on the vintage 1950s Seagrave firetruck that garnered lots of interest and even more questions.
"We came out [to the elementary school] to support Fire Prevention Month and teach the kids all about fire safety," said John Dwyer, NNSS Fire & Rescue (F&R) Station 2 Captain. "We want to teach them not to be scared of the firefighters if they ever have to come into their home."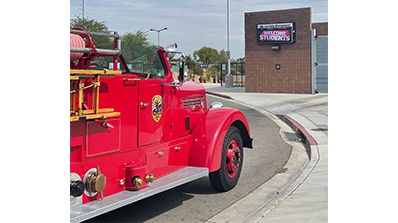 Dwyer said that children can often be fearful of someone dressed in their full firefighting uniform—called turnouts. Interaction with firefighters wearing turnouts in non-emergency situations helps alleviate some of those fears.
The outbreak of COVID-19 caused a two-year hiatus from being able to present at local schools about the importance of fire safety, but the NNSS F&R crews were excited to be back in front of the children. The crews have visited Goolsby at least seven times for previous fire prevention events.
Dwyer stressed the need for "having a meeting spot" in case of a fire to the students and recalled a personal story of how he instructed his own children to meet at the mailbox in case of an emergency.
"Fire prevention education should start as young as possible," Dwyer said.
"If you start teaching them at a young age in a fun way, the information will be more instilled in their minds as they get older," said Bill Nixon, NNSS F&R Station 1 Captain.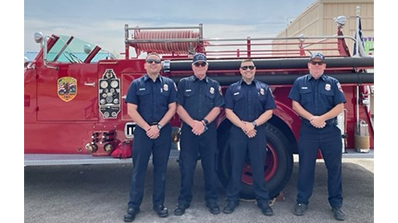 The visits to the school are one of the most successful ways that fire prevention education works because it will be discussed at home, Dwyer said.
Additional crew who shared fire safety education with students were NNSS F&R Engineer Alexis Santiseban, Firefighter Alexas Cota and Paramedic Eddie Vargas. Many thanks for spending the morning with eager second-graders!