The Nevada National Security Site recently sponsored and participated in the Vegas Chamber Military Affairs Committee (MAC)'s annual "MAC Night Out," a celebration honoring outstanding service men and women for going above and beyond in their service to our nation.
The Vegas Chamber and the MAC established MAC Night Out in 2017 to salute award winners from Nellis and Creech Air Force Bases and to connect award sponsors with the winners, their leadership, and their families. The event not only provides recognition for our local military community – including active-duty personnel, reserve personnel veterans, and their spouses and families – it also connects the Vegas Chamber's businesses with the Nellis Air Force Base, Creech Air Force Base, and NNSS communities, and encourages local businesses to hire veterans.
NNSS has been a proud sponsor of MAC Night Out since its inception, making it part of its collaboration with the Las Vegas community to demonstrate appreciation for military members and their loved ones. "This is just one way that we are able to thank the men and women who make the ultimate sacrifice for us day in and day out," said NNSS Deputy Director JD Daniels, a current member and former MAC chair, who was instrumental in establishing MAC Night Out seven years ago.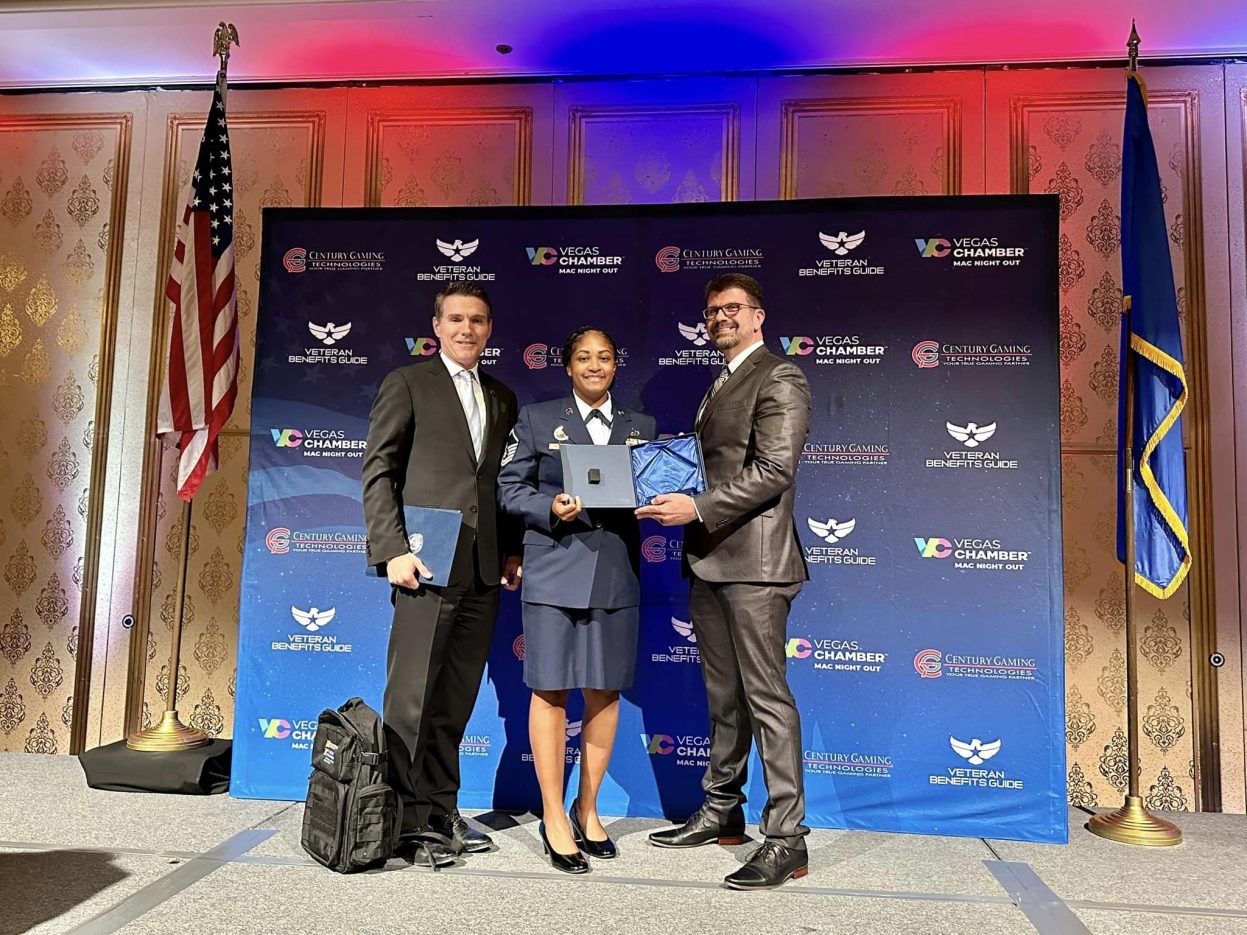 NNSS Security & Emergency Services Senior Director Anthony Mendez also attended this year's celebration and presented the Non-Commissioned Officer of the Year at Creech Air Force Base to Master Sergeant Aisha McDonald.
"After having spent the past 25 years on various Department of Defense and Department of Energy contracts, I have the utmost respect for service men and women," Mendez said. "When active-duty personnel retire, the NNSS welcomes them with open arms, allowing them to still support their nation. I am proud to work for a contractor who strongly supports the hiring of veterans."
Numerous members of the NNSS Veterans Employee Resource Group also attended the event to show their support. Attendees included Matthew Aronhalt, Luis Balcazar, Sean Breckling, Cynthia Ellis, Cindy McIntosh, Xavier Miller, Frank Palciano, George Stamper, Candice Sutton, and Scott Sutton.