The Nevada National Security Site (NNSS) recently hosted 10 cadets who were hand-selected from all services of the U.S. military to participate in the Defense Threat Reduction Agency (DTRA) Nuclear Deterrence Military Cadet Program.
The annual DTRA Nuclear Deterrence Military Cadet Program is designed to familiarize cadets and midshipmen with the U.S. nuclear security enterprise through on-site visits with various Department of Defense (DoD) and Department of Energy organizations and facilities. The goal is to educate cadets and midshipmen about the origins and evolution of the U.S. nuclear deterrence policy, current strategic nuclear capability and U.S. nuclear weapons' operations and supporting infrastructure.
"Our partnership with DTRA is invaluable, and we look forward to hosting these future military leaders each year," said Dr. Craig Wuest, senior director of Mission Development. "It's one thing to have an awareness of the NNSS' role in our national security and nuclear deterrence, but it's a completely different experience to meet our people and see our work and programs first-hand."
DTRA's core functions for DoD include enabling strategic deterrence, supporting U.S. treaty implementation and verification, partnering to reduce global weapons of mass destruction threats, identifying vulnerabilities and mitigation strategies and developing and delivering rapid capabilities. However, the NNSS has worked with DTRA and its predecessor agencies for many decades, partnering on underground nuclear weapon effects tests and providing support for research and development of nuclear nonproliferation, nuclear arms control treaty monitoring and verification in support of on-site inspections.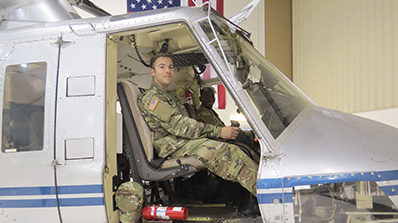 The NNSS first hosted the DTRA military cadets in 2018 at the NNSS Remote Sensing Laboratory-Andrews. In 2021, this select group participated in an exclusive three-week training program that provided them with access to laboratories and facilities across the nation, with the last stop being the NNSS—the Site itself as well as the NNSS Remote Sensing Laboratory-Nellis.
At the Site, they were able to see and meet some of the experts who developed—and continue to further develop—subcritical experiments. These interactions allowed the cadets to better understand the decades of previous testing and the importance of continuing to conduct research for ensuring the safety, security and reliability of our nuclear deterrence efforts and support to national security.
"We look for future generations to keep people understanding the nuclear enterprise," said Donald Parman, coordinator for the DTRA Military Cadet Program. "The years of expertise and research cannot be forgotten. We must inform and educate the upcoming generations to further protect and develop the nation's security."