Interns from the U.S. military have come to the NNSS each summer to learn civilian skills they can apply in their military careers. This summer was no different as cadets and midshipmen from the U.S. Air Force Academy (Colorado Springs, Colo.), Military Academy (West Point, N.Y.) and Naval Academy (Annapolis, Md.) worked on a variety of missions at the NNSS.
Besides being Air Force Academy cadets, Kendall Thomas and Ralph Carios have quite a bit in common: They're biology majors intent on graduating next May, have a medical background, and conducted biological research with the Site's Ecological and Environmental Monitoring group. The only difference: Kendall is aspiring to earn her master's and eventually be an Air Force nurse, while Ralph has his eye on the sky as a pilot.
Kendall and Ralph worked on data collection that was included in the NNSS Environmental Report, such as tracking released and resident desert tortoises. They also conducted plant and air sampling and genetic sequencing to indicate population densities of resident species at the Site. Kendall and Ralph were inspired by the NNSS scientists. "It is exciting to see that everyone we work with enjoys their daily job and the impact it has on the NNSS," Kendall said.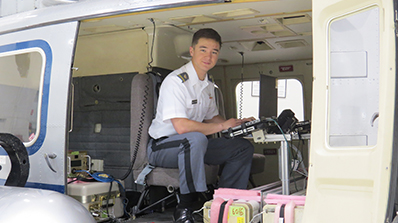 West Point's Thomas Weatherford is majoring in nuclear engineering. Thomas says he aims to have "a real-life glimpse on the applications of nuclear technology and research." Specifically, his long-term goal with his major is to dig deeper into nuclear reactors and nuclear power. He interned at the Remote Sensing Laboratory-Nellis with their Aerial Measuring System (AMS) group. He also attended the U.S Department of Energy Office of Aviation Management's 25th Annual Aviation Safety Workshop and 6th AMS International Technical Exchange that included a guided tour of the NNSS.
After graduation, Thomas will work toward a career in flying Blackhawk helicopters that, combined with his nuclear engineering degree, would make him an ideal future AMS scientist.
"Thomas was afforded the opportunity to research the various radiological detection systems we provide in keeping the nation safe, as well the support of the emergency response mission," says NNSS Senior Principal Project Manager Von Sudderth, who oversees the internships.
Navy midshipmen Fallon Bowes and Joshua Monge interned at the NNSS' North Las Vegas Facility, performing research on the C3 gas gun. The two looked at shock physics experimentation on materials via impact physics to validate computational models. (This foundational research is provided as a stepping stone to the much larger, two-stage gas gun, the Joint Actinide Shock Physics Experimental Research (JASPER) facility).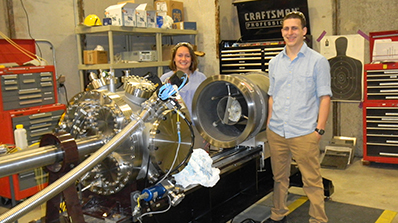 In the first job of her military career, Fallon will be working on surface vessels. Joshua will attend submariners' school and then will transition to submarine duty after he graduates at Annapolis.