Upon first glance, the box containing sodium iodide crystals capable of detecting radiation levels from a helicopter doesn't look like much.
But the digital technology – a significant upgrade from analog systems of the past – can measure millions of counts of gamma rays per second following a radiological release, providing Nuclear Emergency Support Team (NEST) scientists with extremely precise and critical data to help government officials make informed decisions in the event of an emergency.
It was one of the signature capabilities on display for Romanian emergency response officials during their tour of the Nevada National Security Site's (NNSS) Remote Sensing Laboratory (RSL) in May.
"The system produced so much data that we needed more than one data processing team on the ground after the Fukushima Daiichi accident in Japan," Piotr Wasiolek, manager of NEST's Aerial Measuring System assets at RSL, explained to the group as they got an up-close look at the radiation detection system and the twin-engine Bell 412 helicopter that carries it.
NNSS hosted the Romanian delegation as part of the National Nuclear Security Administration (NNSA) Office of Nuclear Incident Policy and Cooperation (NA-81) event. The weeklong visit, coupled with the delegation's attendance at Cobalt Magnet 22 – a major radiological incident exercise hosted by NNSA in Austin, TX, in May – created an opportunity for the Romanian officials to learn what their government would need to do to step up their own aerial measurement capability. Officials also received a briefing from NEST's Consequence Management team, which performs field monitoring and data assessment, and can provide an early characterization of a radiological situation.
Romania is a strong DOE/NNSA partner nation. In 2019, the country received a set of equipment from the U.S. Department of Energy for radiation detection from mobile platforms. Initially, Romanian emergency response officials used the equipment for ground surveys, but since the technology can be deployed on an aerial platform, they partnered with the United States for assistance in cooperation with the International Atomic Energy Agency.
The equipment and ongoing partnership are especially important as Romania operates a nuclear power station in Cernavoda that produces 18 percent of the country's electricity, and neighboring countries have nuclear power stations as well.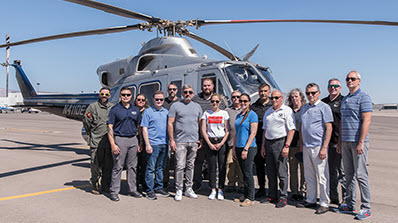 "They may need to have the capability in place to take aerial measurements if an accident happens in that region," Wasiolek said. "Consequence Management provides a first look at the extent of a release, and helps to quickly assess the scale of radiation activity."
In addition to the aerial systems, NEST scientists gave the Romanian officials an inside look at the backpack systems designed and built in-house at the NNSS that enable scientists to see live data as they're walking around and responding to a potential incident, or on the hunt for a dirty bomb.
The weeklong tour of the NNSS also included a helicopter flight over Government Wash, and myriad presentations, discussions, and demonstrations.
While this was the Romanian delegation's first visit to the NNSS, these kinds of partnerships aren't new, Wasiolek said.
In September 2022, NA-81 and the NNSS will host the 10th annual Aerial Measuring System International Technical Exchange. The event will provide the opportunity for open discussions on specific subjects related to aerial measurements by responders from other countries operating mature aerial measurements assets. Previous participants have included Norway, Sweden, Canada, France, South Korea, Taiwan, Japan, Switzerland, Germany, the United Kingdom, Brazil, and the Czech Republic.
"These discussions are vitally important for learning best practices from one another in an effort to make our national security and our international collaborations stronger," Wasiolek said.