The Nevada National Security Site's (NNSS) partnership with the U.S. Chamber of Commerce Foundation's Hiring Our Heroes welcomes two fellows this year who bring a combined 26 years of experience serving our nation.
Hiring Our Heroes connects veterans, service members and military spouses with civilian employment opportunities. During the 12-week program, participants are given the guidance to support a smooth return to the civilian workforce. Following the program, the employer can hire the fellow full-time.
The NNSS' 2022 fellows are Damian Hicks and Brian Kraus, two soon-to-be veterans who bring valuable skills and have made significant accomplishments despite obstacles they faced.
Damian Hicks: A nontraditional path to service
Most soldiers join the military in their early 20s, which wasn't the case for Hicks. At 24, he and his family went through the tragic loss of his mother. He quickly had to transition from college student to parent, gaining full custody of his 12-year-old sister.
Hicks supported his sibling and finished college, earning a bachelor's degree in criminal justice. He went to work for a company based in Las Vegas for 12 years before realizing his dream was still out there–serving the nation.
At the age of 34, Hicks enlisted in the military. The reaction of his friends, who were just coming out of the military, was that he was out of his mind to enlist. He did it anyway, and he is glad he did.
"Serving in the military is something that is larger than life," said Hicks. "It's hard to explain the feeling, but it's just larger than life."
During his six years of active duty, he worked as an aircraft maintenance technician, operating on F-15 fighter jets and B-52 airplanes. In the last 18 months of his military career, he was the program manager/innovation coordinator, working for the Second Bomb Wing Commander and leading the Spark Cell and Continuous Process Improvement Office. The Spark Cell is an innovation program that empowers airmen to bring tomorrow's tools to warfighters today. They partner entrepreneurs with the top problem solvers in industry, academia and the government.
"The military is an experience like no other, between the lifelong friendships that end up feeling like family, to the vital mission to protect the United States," said Hicks.
While serving, Hicks also earned his MBA. At the NNSS, he puts his military and academic experience to work with a variety of systems and tools for the Program Planning and Control group.
Brian Kraus: Stepping up after 9/11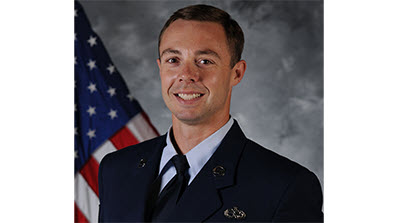 Kraus enlisted in the Air Force following the attacks of Sept. 11, 2001, leaving trade school after two years to answer the call to serve.
Kraus joined the Air Force in 2002 as a HH-60G Pave Hawk helicopter crew chief. He spent 20 years in various roles, including overhaul technician, flying crew chief and flight line manager section chief. He will finish his career as a production superintendent. A typical day for Kraus consists of managing maintenance production operations, directing more than 300 personnel in 12 technical specialties, and maintaining and repairing 20 helicopters for combat and civilian search and rescue operations.
Throughout his 20 years of service, Kraus deployed seven times and was stationed at four bases. One of his biggest takeaways from his deployments was learning to adjust and make the best out of every situation.
"When I was stationed in Okinawa, Japan, with my wife, it was difficult being thousands of miles away from family," he said. "Over our time there, it became my favorite base. We enjoyed the beach life and I have memories with my wife that will last my entire life."
At the NNSS, Kraus works with Stockpile Experimentation and Operations, learning and maintaining the integrated master schedule for the U1a Complex.
"My role with the NNSS is very similar to what I did in the military, so the transition has been pretty easy so far," said Kraus. "I like that I can use my skills in a new way and continue to serve our nation."
Visit the U.S. Chamber of Commerce Foundation's Hiring Our Heroes website to learn more about the program.