The Nevada National Security Site Women's Affinity Group recently gathered clothing donations for Women United with United Way of Southern Nevada. Women United empowers women to achieve economic independence by enabling them to build a career and become self-sufficient. The organization assists local women in the Las Vegas Valley looking to get back on their feet by providing professional attire, a network of support and career development tools to help them thrive in work and life.
The donated clothing provides a woman with one suit for her job interview. In addition, this particular annual suit drive unites female leaders across Southern Nevada to empower women returning to the workplace. Donations help women who are participating in return-to-work programs gain confidence to succeed during job interviews.
This year, employees were able to drop-off donations at three different locations varying between the North Las Vegas facility and the Site. Donations gathered filled three vehicles, which added to the total of over 5,000 articles of clothing donated from people from the Las Vegas area. These donations provided hundreds of women with new or gently used attire to feel confident and find success in the workplace.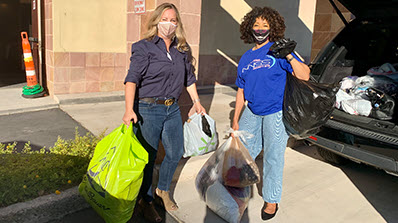 For more information on Women United of Southern Nevada, please visit https://www.uwsn.org/women-united.