NNSS F&R paramedic services represent an in-kind contribution of $285,000 annually to Nye County
The Nevada National Security Site's (NNSS) Fire & Rescue (F&R) team serves as a fundamental resource not only for the 1,360-square-mile Site and more than 3,000 employees, but also for the community of Nye County.
Of the 215 calls for service NNSS F&R received in 2018, 64 were for mutual aid, a support request from a nearby agency. The Site's proximity to surrounding communities means the NNSS F&R team members are often the closest first responders, allowing them to arrive on scene and begin providing assistance quicker than other agencies. NNSS response areas can extend from a range of Nevada State Route 160 into Beatty, where NNSS F&R has assisted with patient transfers, to Tonopah.
"NNSS F&R has become an integral part of Southern Nevada," said NNSS F&R Chief Brian J. Dees. "We're proud to continue this legacy through our work in the field with other agencies and through our impact with civilians in the community."
When a request for mutual aid comes through, the need is assessed along with Site coverage capability. Once coordinated, units are then released to assist the agency.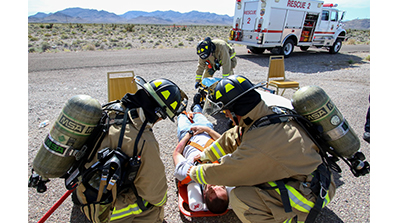 Manned by 71 employees, including four senior staff members and one administrator, NNSS F&R is equipped and staffed to respond 24 hours a day, seven days a week. Operating on three 56-hour shifts, Mercury's Station 1 consists of nine firefighters and five paramedics, and Area 6's Station 2 comprises six firefighters and two paramedics. Incidents are categorized as fire, hazmat, medical, non-medical or mutual aid.
"What we bring is manpower," said former NNSS F&R Chief John Gamby, who recently retired after serving the NNSS for 40 years. "In 2018, we went out to Nye County when they had a couple major fires. We were able to help and transport six patients in the Pahrump community. We filled that void so they could keep their units on the fire."
This type of assist is representative of the long-term relationship NNSS F&R holds with Nye County. As Nye County emergency responders coordinate with the Site to conduct exercises annually, NNSS F&R also utilizes Nye County's burn facility to complete training requirements.
Offered at no charge, NNSS F&R paramedic services represent an in-kind contribution of $285,000 annually to Nye County. NNSS F&R can often offer higher levels of care for medical and drug administration needs.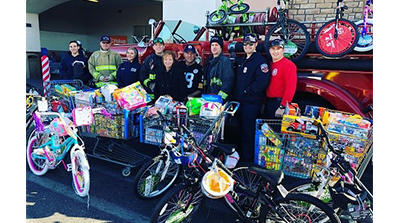 The collaboration has also benefitted the NNSS; Nye County has provided funding to NNSS F&R employees for training opportunities beneficial to both agencies. Mutual aid councils are conducted monthly between the National Nuclear Security Administration's Nevada Field Office and Nye County.
NNSS F&R's reach also extends beyond Nye County borders. The team fundraises for the Firefighters of Southern Nevada Burn Foundation, which provides resources and care for victims of fires and catastrophic events in addition to donating toys to children in need during the holidays.
A staple at community events, F&R is part of annual community parades, remembrance days, and school and holiday events. Because government vehicles cannot be used for unofficial business, F&R is well-known for its 1950 Seagrave Fire Engine, which employees purchased through donations and fundraising. The truck was fully restored by F&R so the organization could have a presence at local gatherings like the local children's holiday celebration.
For more information about NNSS F&R, please visit https://www.nnss.gov/pages/facilities/FandR.html.