The NNSS' Remote Sensing Laboratory is providing radiological emergency response during NASA's next launch.
Among the most iconic events in Americana are space launches. From Neil Armstrong, Buzz Aldrin and Michael Collins' historic Apollo 11 launch with the Saturn V to 135 space shuttle liftoffs, Kennedy Space Center is a pillar in U.S. space history. As the National Aeronautics and Space Administration (NASA) prepares to write history once again with the launch of the Mars Perseverance rover at nearby Cape Canaveral, the Department of Energy (DOE) National Nuclear Security Administration's (NNSA) Nevada National Security Site (NNSS) Remote Sensing Laboratory (RSL) has been an integral part of the planning for radiological and emergency response support for this summer's landmark event.
The Perseverance rover that will explore the red planet's surface is equipped with an energy source that employs Plutonium-238 to maintain the system's power and electrical systems, known as the Multi-Mission Radioisotope Thermoelectric Generator (MMRTG). The technology – designed, built and tested by the DOE – uses multiple layers of protective measures to contain radioactive material in the event of an accident during launch. While there is high confidence that the MMRTG design will prevent a release of radiological material, it is prudent to have the capability to quickly assess whether there are any radiological consequences resulting from a launch area accident. Enter RSL.
Based out of Nellis Air Force Base in Nevada and Joint Base Andrews in Maryland, RSL is one of the nation's leading entities for nuclear incident response and remote sensing, providing essential elements of the DOE/NNSA's Nuclear Emergency Support Team (NEST). RSL specializes in radiation sensor development and execution of air and ground radiation detection, surveillance and radiological assessment missions. A fixture for radiological emergency response at major national and international events, including the 2011 Fukushima incident, the RSL element of the NEST – which includes scientists, pilots, engineers and operational specialists – stands ready to respond to a nuclear incident 365 days a year.
RSL's support to NASA dates back to the 1997 launch of the Cassini spacecraft. The partnership continued throughout the ensuing decades, with RSL providing essential technical planning and operational support for subsequent launches. Since the 2011 launch of the Mars Curiosity rover, the RSL team has been conducting radiological contingency planning and sensor development for the Mars 2020 mission.
"This has been an amazing team effort during the last eight years," said NNSS Nuclear Response Team Lead James Essex. "After supporting both the Mars Curiosity launch and the Fukushima Daiichi Nuclear Power Plant disaster in 2011, we proposed a win-win solution to both NNSA and NASA. The proposal to NASA was to improve their real-time air sampling network for their next MMRTG launch. The proposal to the NNSA Office of Nuclear Incident Response was an early-warning capability that DOE could use in the event of an ongoing release at a nuclear power plant. Eventually, a Memorandum of Understanding was signed to share the capability between agencies, saving taxpayers millions of dollars from duplication of effort. Then we began the process of developing, testing and manufacturing the capability at RSL."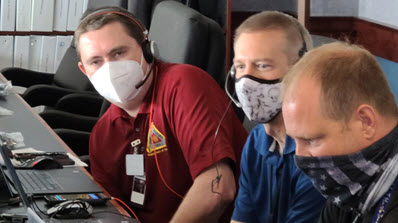 The result of that proposal is an extensive static air monitoring network that can characterize data, which provides emergency responders the information required to make operational decisions. A total of 30 sensor units will be deployed around the Kennedy Space Center and Cape Canaveral site prior to launch day. Several field exercises have been completed, and a seven-person team from the NNSS is supporting operations leading up to launch day.
"The launch of Perseverance is deemed a critical activity by the U.S. government," said Essex. "NASA is working hard to execute the launch safely under the circumstances. This has required shifting schedules, expectations, and safety considerations due to the COVID-19 pandemic. These shifts have translated into needing to make things happen on short notice, which has required asking for support from many people across the NNSS. Ensuring this is a safely executed success has required support from numerous teams: information services, cybersecurity, medical, material coordination, procurement, travel, shipping, finance, the Emergency Communications Network, all levels of management, facilities and janitorial staff, and all of the Nuclear Response Division. The takeaway is that there are many people from all over the NNSS who are making this possible."
For real-world events and exercises alike, RSL coordinates emergency response efforts with federal, state, local and tribal entities through the Federal Radiological Monitoring and Assessment Center. Mars 2020 has enabled RSL the opportunity to further build communication plans with other organizations.
"This has given response communications an opportunity to work on new methods and ways to organize ourselves and the systems in place to answer questions a little differently from what we do with state and local partners," said NNSS Nuclear Response Manager Rajah Mena. "With NASA, this is one of those things you know where you're going, the items of interest and timeline. It affords you an opportunity you don't have other places."
Execution of the NNSS' support to Mars 2020 real-time air sampling network was an integral effort between multiple NNSA entities – including Pacific Northwest National Laboratory, Lawrence Livermore National Laboratory, Sandia National Laboratories and Kansas City National Security Campus – through the DOE's Strategic Partnership Projects (SPP) directive, which encompasses work performed by NNSA personnel for non-DOE entities, such as NASA. Out of all projects assessed through NNSA's external review process, the enterprise's support to the Mars 2020 launch was deemed among the top 10 best executed.
"This is the perfect execution of what was intended for SPP—leverage NNSA capabilities to help out other federal entities while providing collateral back to NNSA," said NNSS Nuclear Response Director Alexis Reed. "This is exactly what we try to achieve when we engage in SPP projects: a win for the federal government."
For more information about RSL, see https://www.nnss.gov/pages/facilities/RSL.html. To follow the Mars 2020 Perseverance launch, visit https://mars.nasa.gov/mars2020/.