Troy Ernest Wade II, a longtime national security champion and career employee with the U.S. Department of Energy (DOE), passed away Jan. 16, 2022. He was 87.
Wade was born in 1934 in Cripple Creek, Colorado. He attended the University of Colorado but left school prior to completing his engineering degree to mine uranium in western Colorado. Wade's career with DOE began in 1958 at the Nevada Test Site, now known as the Nevada National Security Site (NNSS). He started out as a mining supervisor for Reynolds Electrical and Engineering Company. His other roles at the site were a high explosives technician for Lawrence Livermore National Laboratory, a nuclear safety officer for the Atomic Energy Commission's Nevada Operations Office (now the National Nuclear Security Administration (NNSA)'s Nevada Field Office), and increasing leadership roles that included director of quality assurance, director of test systems and deputy manager.
In 1981, Wade accepted the role of DOE's principal deputy assistant secretary for defense programs at its headquarters in Washington, D.C. Two years later, he was selected to manage the Idaho National Laboratory, overseeing its diverse reactor research and operations activities. He returned to Washington in 1987 as the assistant secretary for defense programs, providing primary leadership and managing a budget of more than $10 billion for the nuclear weapons complex. He provided key guidance in negotiating the Joint Verification Treaty with the Soviet Union that was signed in 1988. Wade also was a founding member of the Nuclear Emergency Search Team, a key DOE radiological response equity now managed by NNSA.
Another Wade, his son Scott, works at the Nevada Field Office as a senior advisor for the oversight of Environmental Management activities at NNSS.
"One of the challenges of being his son was there were many things he couldn't talk about," said Scott said. He said his father always expressed pride in his work as "one of many who served their country in roles that helped promote peace for many decades."
While Wade did not have a college degree, he once told Scott that he always found it interesting since he was often surrounded by engineers and nuclear scientists who did. Scott attributed his father's success to his natural leadership abilities.
Wade retired from DOE in 1990 but continued to provide consulting support to various national security, nonproliferation, disarmament, and environmental cleanup initiatives, including advising Ambassador Linton Brooks on the establishment of NNSA. He was a member of the Nevada Governor's Homeland Security Committee in the early 2010s and advised the U.S. Air Force on the Nevada Test and Training Range.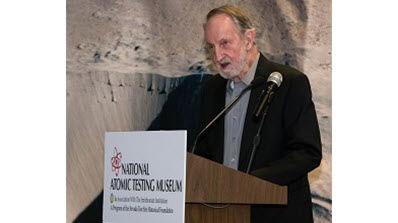 In 2014, Nevada Representatives Dina Titus and Joe Heck honored a group of cold warriors for their service, Wade among them. "Too often your accomplishments are not as recognized as other veterans. Troy and I started on opposite sides of the table but, with patience and graciousness on his part, we became mutually respected colleagues and dear friends," said Rep. Titus.
In a statement issued by her office after Wade's passing, Rep. Titus observed, "Troy was the ultimate Cold Warrior. He loved this country and considered his work at the Nevada Test Site a patriotic duty. We are truly safer and more secure as a nation because of his vast knowledge and abiding commitment."
"Troy Wade was a legend in the nuclear weapons program for decades, effectively working with the best nuclear experts, thousands of workers, and political leaders," said Kathy Carlson, former manager of the Nevada Field Office. "His compassion, common sense, devotion to our country, and intelligence were so appreciated. Troy was dedicated also to his family and was a mentor to many of us. His passion, humor and spirit are greatly missed."
Wade also made an impact in the Las Vegas community by helping establish the National Atomic Testing Museum, which opened in 2005. He and other former site managers secured donations and support during its development phase and oversaw its design and construction. Wade also served as the museum board of trustee's chair for several years.
In addition to his son Scott, Wade is survived by his son Terry and daughter Sherri McKenzie; five grandchildren; and several great-grandchildren.