Employees from the Nevada National Security Site (NNSS) recently spent a Saturday at the Las Vegas Science and Technology Festival inviting children and their families into a day in the life of a scientist. Through hands-on demonstrations, children were able to get a better understanding of what STEM education truly is and a glimpse into a future career field.
Established in 2011, the Las Vegas Science and Technology Festival is the largest educational event in Nevada. The event is designed to spark curiosity and showcase a variety of work happening in science, technology, engineering and mathematics in Las Vegas. More than 40,000 visitors attend the nine-day festival each year, which hosts more than 130 organizations.
NNSS employees joined the final day of the festival for its science and technology expo with several interactive stations. NNSS Fire and Rescue employees Cody Milner and Bill Nixon showed children the 1950 Seagrave fire engine at the entrance to the World Market Center and talked about what it's like to be a firefighter. Children explored the classic fire truck and received free NNSS fire helmets and firetruck pencil cases.
Visitors learned about shock physics on a small scale by sealing an acrylic tube, removing air pressure from inside to create a vacuum. The launcher then used natural atmospheric pressure to push a 3-D printed projectile down the tube to hit a felt target, traveling over 300 mph.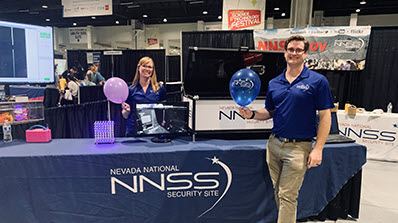 An infrared camera at the third interactive station showed visitors how thermal energy is observed and converts into an electronic signal, producing an image. NNSS employees demonstrated diagnostic timing and firing at another station through the simple pop of a balloon using a high-speed imaging camera (13,000 frames per second) to capture data. Another station showed how fiber optics work through internal reflection by having a laser follow a stream of water.
The design of the magnetic accelerator, the final demonstration, converted magnetic energy on the magnet rings into kinetic energy on a small magnet cylinder over and over again along an acrylic tube to mimic a particle accelerator.
NNSS employees who volunteered were Kena Anderson, Brent Baker, Elizabeth Craft, Wadih Hanache, Russell Howe, Amanda Lee, Jian Ma, James Majdanac, Cody Milner, Nolan Moore, Bill Nixon, Gwyn Rosaire and Todd Ware.
The NNSS supports STEM in local and regional K-12 and higher education institutions and nonprofit organizations through volunteerism, financial support and board membership.