Nevada National Security Sites (NNSS) has been a proud supporter of Project 150 for many years, including offering financial support to Project 150's scholarship program.
Project 150 is a non-profit organization, working to increase the viability and recognition of youth in Southern Nevada. Project 150's Scholarship Program is one of the many avenues used by the organization to ensure students are aided to achieve higher education goals. It is open to all high school seniors and current college students who would like to apply for financial assistance to attend any of Nevada's higher education institutions.
This year, Project 150 awarded 97 scholarships—the most in their history—and two of those recipients are NNSS employees Manuel Morales-Marroquin and Jacob Ramirez-Morales.
Manuel Morales Marroquin
Manuel first heard about the NNSS during last year's Project 150 scholarship luncheon. He would regularly bump into NNSS employees at various events, including when they volunteered at Three Square while he worked there part-time and, most recently, at his college orientation where he was able to talk with a representative about the internship program and the volunteer work NNSS does in Southern Nevada.
Manuel knew the NNSS would be the place for him, with opportunities to both nurture his passion for volunteerism and gain invaluable real-word experience in the cybersecurity career field. As an Information Technology intern, he has been able to work closely with the Cyber and Data/Documentation departments within the Emergency Communication Network. The dual exposure has helped him learn about cybersecurity and the importance of effective documentation in ways he had never thought of before.
"Without a doubt in my mind, none of my accomplishments, goals, or the progress I've made toward my dream would be possible without Project 150. The scholarships they've extended through the years are a clear statement of the belief they have in my future and many others. Project 150 gave me—and continues to give me—a fighting chance toward a future I thought wasn't possible for me to begin, and for that, I can't wait to show them how far I'll go in life," said Manuel.
Manuel is set to graduate from the University of Nevada, Las Vegas in 2025 with aspirations of joining the NNSS IT department full-time.
Jacob Ramirez-Morales
During high school, Jacob was in a dual-enrollment program set up through the College of Southern Nevada. It was through that program Jacob learned about Project 150.
"Thanks to the Project 150 scholarship, I was able to focus most of my time on my studies, without having to worry about the financial stress that comes with pursuing higher education. With the help of this scholarship and others, I am proud to say that I did not have to take any loans while pursuing my Bachelor of Science in mechanical engineering," said Jacob.
Jacob earned his bachelor's degree from the University of Nevada, Las Vegas, where he also learned about the NNSS. A professor of his knew Jacob would excel in the role of controls engineer, and the professor was right. Jacob is currently an engineer with NNSS Experimental Operations.
All scholarship recipients were recognized and honored at the recent Annual Scholarship Award Celebration. This event acknowledges and gives thanks to the generous sponsors and supporters who make education possible for deserving students. The work Project 150 does is invaluable, providing support and services to high school students who need a fighting chance, and the NNSS is proud to be a sponsor for such a great cause. Employees representing the NNSS included Elizabeth Craft, Carolyn Lima, Brianna Majdanac, and Jennifer Morgan.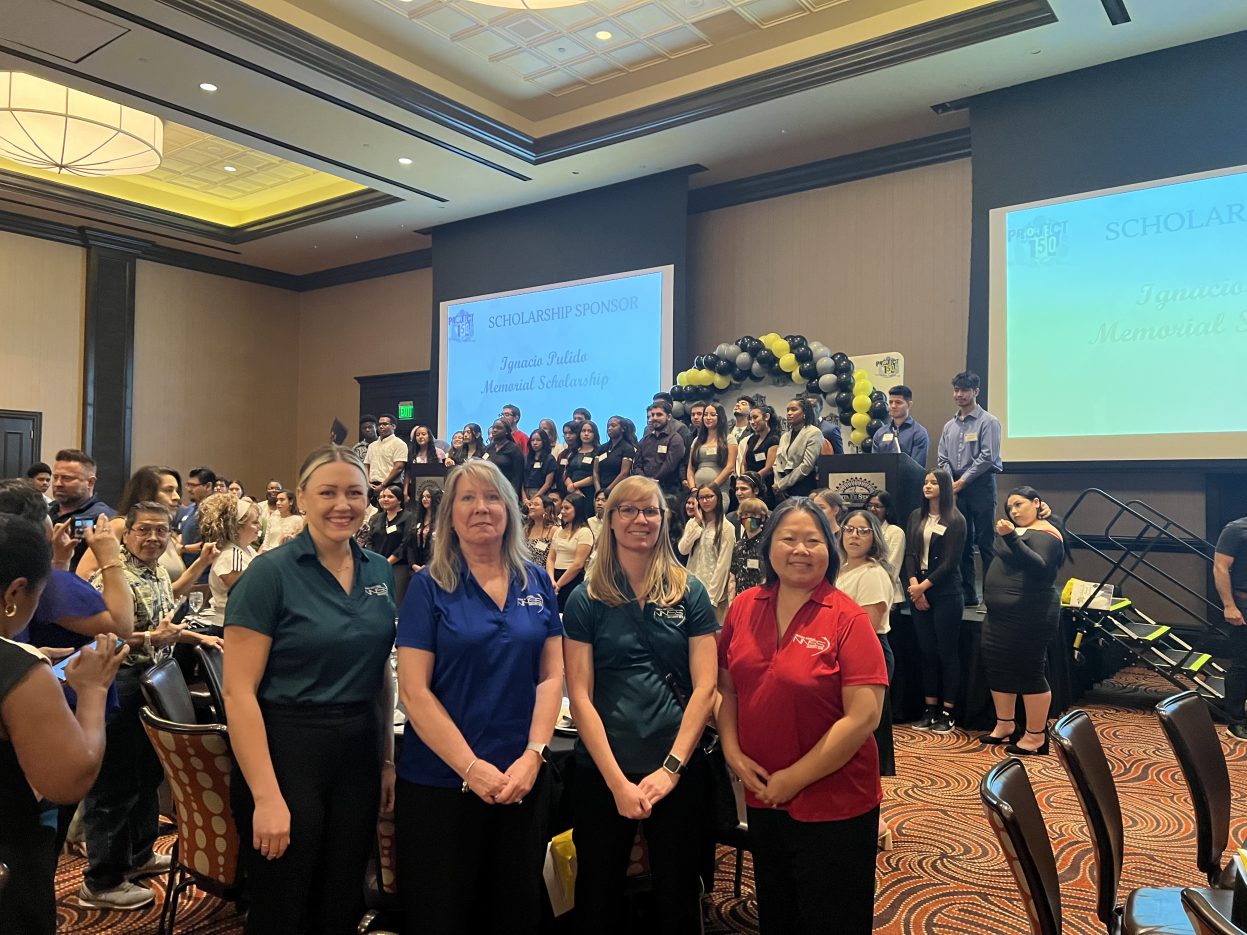 Interested in learning how you can join the NNSS? Visit our Careers page.