The National Nuclear Security Administration (NNSA)'s Nevada National Security Site (NNSS) has secured the future of the Department of Energy/NNSA Emergency Communications Network (ECN) through a partnership project with Switch, a Las Vegas-based provider of advanced data centers. The ECN facilitates exchange of real-time voice, data and video information to manage emergency situations that involve NNSA interests and assets.
Eight years ago, NNSA began exploring options to update the ECN's infrastructure housed at the NNSS' Remote Sensing Laboratory at Nellis Air Force Base. Upgrading the existing ECN would mean a multi-million dollar investment on an already dated infrastructure.
In 2017, pursuant to a lease awarded by Mission Support and Test Services, LLC (MSTS), the management and operating contractor of the NNSS, Switch began to modify the existing Switch Las Vegas Data Center to adhere to NNSA configurations. ECN data was then migrated from RSL-Nellis to the new Switch Las Vegas Data Center. The data migration was completed in July 2020.
The NNSA portion of the Switch Las Vegas Data Center meets specifications set forth by the U.S. Office of the Director of National Intelligence for sensitive compartmented information facilities.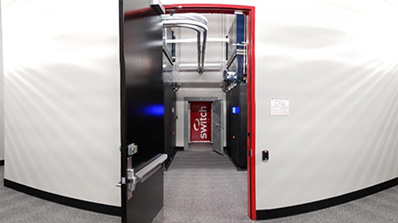 "Switch was designed and built to support global missions of agencies like the NNSA," said Switch Executive Vice President of Strategy Adam Kramer. "Switch provides a safe, resilient and sustainable environment for the deployment of NNSA's mission-critical data."
With data migration complete in July 2020, the project came in three months ahead of schedule and $1.36 million under budget at $7.8 million. Teams from emergency management, security, cybersecurity, IT, and procurement from across MSTS and NNSA were instrumental in the project's implementation.
"It's a huge milestone," said MSTS ECN Program Director Dr. Antonio Montgomery. "This will modernize the ECN, enhance our reliability, increase speed and is cost effective."
The success of the project was recognized in a Sept. 2 ribbon-cutting ceremony with NNSA Administrator Lisa E. Gordon-Hagerty at the Switch data facility in Las Vegas. Administrator Gordon-Hagerty has incorporated upgraded infrastructure in her strategic plan for the enterprise.