NORTH LAS VEGAS, Nevada – The Nevada National Security Site (NNSS) released its annual environmental report for 2022, now available online at https://nnss.gov/publication-library/environmental-publications/.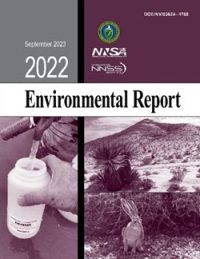 The 2022 NNSS Environmental Report provides the results of environmental monitoring and compliance related to all programs and activities conducted in and around the NNSS to protect the environment and the public.
"The National Nuclear Security Administration (NNSA) Nevada Field Office (NFO) presents this environmental report to summarize actions taken in 2022 to protect the environment and the public while achieving our mission goals," said NNSA/NFO Manager Dr. David Bowman. "This report is a key component in our efforts to keep the public informed of environmental conditions at the NNSS and its associated facilities in Las Vegas."
Contents in the report include status and activities for environmental compliance and stewardship, radiological monitoring of groundwater and air, endangered species protection, cultural resources, outreach and more.
###